Page 2 of 2 •

1, 2
Yes, 2.8 billion sounds like a lot, but once they calculate what would have been paid (with dependent amounts), going back, that 2.8 billion amount will shrink rapidly. For example, I was paid around $75000, divided by three lump sum awards, but once they calculate retro , I would have received close to $50000 in monthly payments since 2008, leaving only a balance of around $25000. And that's only if they make the changes this year. The longer it takes to reinstate the pension, the less and less they would have to forgive, if they chose to.

bigrex

CSAT Member




Number of posts

: 3102


Location

: Halifax, Nova Scotia


Registration date :

2008-09-18



ya bigrex but if they pay the retro it will still be a very high amount . lower sure but not a lot .

propat
They should be looking at the (UPA) Upgraded Pension Act ?

Not that it's me who posted it...but if they really want to fix it..an fix it right..an bring back fairness amongst all Veterans..they should be looking into something along those lines.

One thing I do know is that there's more of a spotlight on how the government responds to the Veterans file an there's a hell of a lot more Veterans..Veterans groups..media..opposition tools today as there was when the NVC came into the picture..an not let us forget the Equitas suit in BC.
So those responsible to reinstate this.. better get it right.. an better not take for ever cause there's more of us to counter any bad written legislation..be prepared for a full scale fight right across the Country .. if they don't come through on what they promised.


One thing that I see as a problem an would like to see addressed is the Education & Rehab an helping with finding medically released Veterans work.

This should continue but should not interfere or conflict in any way shape or form in determination of entitlements towards receiving benefits.
It should be something that is completely outside of financial benefits a Veteran receives.

Sorry wild thing... I don't need that kind of plastic political entertainment.
Bugs Bunny is much better

Stay welll all.

pinger

CSAT Member




Number of posts

: 1232


Location

: Facebook-less


Registration date :

2014-03-04



Wild Thing it certainly shows that were not alone in our frustration towards the lack of movement from our Minister.

Like I said before...he needs to speak more about what's going on with our file ... instead of what's going on outside our file.
Justin Trudeau was sworn in as prime minister on November 4, with vows of sweeping change and country-wide renewal. But after half a year in office, how well are the Liberals delivering on their promises? We rate the performance of the new government and the new parliament after their first six months.
It's said election promises are like babies: fun to make, hell to deliver. And by that measure, the Liberals under Justin Trudeau had a jolly time during last summer and fall's marathon campaign.
The party made 219 promises to get elected, according to TrudeauMetre.ca, which is tracking the fate of the new government¹s promises. Of those, 29 have been achieved and 19 have been broken. The remaining 175 are in progress or work on them has yet to start.
Here are some of the pledges from the Liberal election platform the new government has failed to deliver:
We will run modest deficits for three years so that we can invest in growth for the middle class and credibly offer a plan to balance the budget in 2019.
Nope. The Liberals are projecting a $29.4-billion deficit in 2016-17, followed by a $29-billion shortfall the following year and almost $23 billion in 2018-19.
We will stop Stephen Harper's plan to end door-to-door mail delivery in Canada and undertake a new review of Canada Post to make sure that it provides high-quality service at a reasonable price to Canadians, no matter where they live.
Here's what the Liberals really meant: "What that service will be will depend on what Canada Post can afford, because there will not be any money forthcoming from the government, as it is an arm's-length crown corporation," Public Services Minister Judy Foote told a Commons committee in March.
We will be honest about the government of Canada¹s fiscal position.
Uh, well, according to the Ottawa Citizen, "Canada's budget watchdog has some of the missing data Parliament needs to scrutinize the Liberal government's budget but says it couldn't disclose those numbers in its latest report because they are confidential. Finance Canada officials handed over figures behind the budget's five-year cost estimates but later warned the Parliamentary Budget Office those numbers were 'confidential' and couldn't be used in the report."
We will maintain current National Defence spending levels,
including current planned increases.
Not so. The Liberal's maiden budget postponed $3.7 billion for large-scale capital projects in 2016-2021 to future years.
We will re-establish lifelong pensions as an option for our injured veterans, and increase the value of the disability award.
The budget made no mention of bringing back disability pensions for veterans who are forced to leave the military because of their injuries even though the pledge was a centrepiece of the Liberals' effort to court military veteran voters.
As an immediate commitment (toward negotiating a new Health Accord with the provinces and territories), we will invest $3 billion, over the next four years, to deliver more and better home care services for all Canadians. This includes more access to high quality in-home caregivers, financial supports for family care, and, when necessary, palliative care.
Federal Health Minister Jane Philpott says she is still talking with the provinces.
To attract investment and create good jobs in food processing, we will invest $160 million, over four years, in an Agri-Food Value Added Investment Fund. This will provide technical and marketing assistance to help food processors develop new value-added products that reflect changing tastes and market opportunities.
There was no mention of the fund in this year's budget.
Canadian parents deserve a parental benefits plan that is flexible and able to adjust to their unique family and work circumstances. We will introduce a more flexible and inclusive benefit available to any Canadian who provides care to a seriously ill family member.
Not delivered.
Government data and information should be open by default, in formats that are modern and easy to use. We will update the Access to Information Act to meet this standard.
That review has been put off until 2018, says Treasury Board President Scott Brison.
We will end the secrecy surrounding the Board of Internal Economy, the group responsible for regulating spending by Members of Parliament. Except in rare cases requiring confidentiality, meetings of this group will be open to the public.
So far no orange juice or other bills available.
The federal government should use advertising to promote government programs, not partisan agendas. We will appoint an advertising commissioner to help the auditor general oversee government advertising.
False advertising.
To help close the funding gap and improve outcomes for First Nations students, we will invest $300 million per year in incremental funding, totaling $750 million per year by the end of our first mandate. Over the next four years, this represents a $2.6 billion new investment in helping First Nations students learn and succeed.
Not so. A little more than half of the $2.6 billion now won't be spent until after the 2o19 federal election and later.
Reduce the small business tax rate to nine per cent from 11
per cent.
Not even close. The budget deferred reductions in the small business tax rate currently legislated for 2017, 2018 and 2019 and locked in the small-business tax rate at 10.5 per cent after 2016.
http://news.nationalpost.com/news/canada/canadian-politics/the-full-report-card-six-months-in-how-well-are-the-liberals-doing-at-keeping-their-promises
Year One: Liberal promises kept and broken.Oct 18, 2016
OTTAWA — When it comes to keeping promises, Canadians know full well that politicians are not at all like Horton, the Dr. Seuss character who "meant what I said and I said what I meant: an elephant's faithful, 100 per cent."
They make many promises to win elections, but often find it impossible to deliver on them once they take office.
Justin Trudeau is no exception.
He made more than 200 promises in last fall's election campaign. After one year as prime minister, he's kept more than he's broken — but most are still in progress or yet to come. Some are open to interpretation, while still others have been recalibrated. Here's a look at the main ones:
PROMISES KEPT
— A cabinet with as many women as men.
— A 20.5 per cent income tax rate for Canadians earning between $45,282 and $90,563, down from 22 per cent.
— A new 33 per cent tax bracket for those earning more than $200,000.
— Create a new, more generous child benefit.
— Restore mandatory long form census.
— Unmuzzle scientists.
— Create an arm's length advisory board to recommend merit-based, non-partisan nominees for the Senate.
— Ensure process of appointing Supreme Court justices is more transparent, inclusive and accountable to Canadians. Trudeau's only pick for the top court thus far, Malcolm Rowe, was one of five recommended by a new independent, non-partisan advisory board. The board's chair, one-time prime minister Kim Campbell, and Rowe are to appear separately to answer questions about the appointment from a Commons committee.
— Withdraw Canadian fighter jets from Syria and Iraq, beef up humanitarian aid and military support to train Iraqi ground forces.
— Launch a national inquiry into missing and murdered indigenous women.
— Create a parliamentary oversight committee on national security operations.
— The first phase ($11.9 billion over two years) of an additional $60 billion over 10 years in infrastructure spending.
— Scrap income splitting for couples with children.
— Roll back to $5,500 the $10,000 annual limit on tax-free savings account contributions.
— Restore the age of eligibility for old age security and guaranteed income supplement to 65 from 67.
— Work with the provinces to enhance the Canada Pension Plan.
— Provide a refundable tax benefit of up to $150 to teachers who spend their own money on school supplies.
— Invest $2.6 billion over four years for First Nations education, although it is now over five years.
— Restore funding cut by the Conservatives for the CBC.
— Expand the youth summer jobs program.
— Reopen nine Veterans Affairs offices closed by the Conservatives.
— Increase financial benefits for veterans whose careers are impacted by injury.
— Welcome 25,000 Syrian refugees to Canada, although it took several months longer than promised and only about 15,000 were government-assisted refugees; the rest were privately sponsored.
— Increase funding for student grants by 50 per cent.
— Create the prime minister's youth council.
— Reform employment insurance to reduce the wait time before claiming EI, cut the number of hours an individual must have worked to receive benefits.
— Repeal Conservative legislation that allowed the government to revoke the citizenship of dual citizens convicted of terrorism, treason or espionage.
PROMISES BROKEN
— Run deficits of less than $10 billion in each of the first three years of the mandate, still reducing the debt-to-GDP ratio each year and balancing the books in the final year. The Liberals' inaugural budget projects deficits for at least five years, totalling $113 billion, including almost $30 billion this year alone. The government hopes to lower the debt-to-GDP ratio over the course of the mandate.
— The tax break for middle-income earners was to be "revenue neutral," paid for by hiking taxes on the wealthiest one per cent. In fact, it will cost the federal treasury $1.2 billion a year.
— Reduce the small business tax rate to nine per cent from 11 per cent.
— Maintain funding level for the Canadian Armed Forces. Government pushed back $3.7 billion for new equipment to 2020.
— Immediately scrap the planned $44-billion purchase of F-35 stealth fighter jets, launch open and transparent competition to replace the current CF-18 fighter jets and reallocate the savings to the navy.
— Immediately invest $3 billion over four years to improve home care. This promise is now tied to negotiations with the provinces and territories on a new health accord which the government hopes to have in place next year.
— Cap how much can be claimed through the stock option deduction on annual gains higher than $100,000.
— Trudeau's verbal promise to "restore" door-to-door home mail delivery. The government is committed only to stopping any further reduction in home delivery while it conducts a review of Canada Post's operations.
IN PROGRESS
— Replace Canada's first-past-the-post voting system by the next federal election. An all-party committee is to report by Dec. 1 on the best alternative but a consensus may yet prove impossible to find.
— Legalize marijuana. A task force is to report by Nov. 30 and the government is promising legislation next spring.
— Overhaul the Access to Information Act to make government open "by default."
— Amend controversial anti-terrorism legislation passed by the previous Conservative government. The government has launched consultations and is in the process of creating a parliamentary oversight committee on national security.
— Renew commitment to peacekeeping. The government has announced it will commit up to 600 troops and 150 police officers to UN peacekeeping missions but has yet to decide where to deploy them.
— Review of criminal justice reforms undertaken by the previous Conservative government.
STILL TO COME
— Reform election laws: repeal controversial elements of the Fair Elections Act, restore the independence of elections watchdogs, create an independent commission to organize leaders' debates during campaigns, limit party spending between elections.
— Ban partisan government advertising, appoint an advertising commissioner to police the ban.
— Implement all 94 recommendations made by the Truth and Reconciliation Commission on the lingering effects of residential schools on indigenous peoples.
— Re-establish lifelong disability pensions for veterans.
— Cover the cost of four years of post-secondary education for every vet.
— Reform the operation of Parliament, including empowering backbenchers with more free votes, a weekly prime minister's question period, more open board of internal economy meetings and an end to omnibus bills.
— Create an office of counter-radicalization to deal with the phenomenon of home-grown extremists.
DISPUTED
— Adhere to the principles of the United Nations Declaration on the Rights of Indigenous Peoples, which states that no law or project can proceed without the "free, prior and informed consent" of indigenous people impacted by them. Some aboriginal leaders believe that confers a veto over natural resource projects. The government, which recently approved the Site C hydro dam and Pacific NorthWest LNG terminal in B.C. over aboriginal objections, says it doesn't.
— Collaborate with premiers. Trudeau has met twice with first ministers to craft a national strategy on climate change and is scheduled to do so again before the end of the year. But he's also infuriated some premiers by unilaterally announcing that the federal government will impose a floor price on carbon pollution — $10 per tonne starting in 2018 rising to $50 per tonne by 2022 — on provinces and territories that don't do it on their own.
He's further angered them by sticking with the previous Conservative government's unilateral decision to limit annual increases in health transfer payments to the provinces to no more than three per cent, ending the six per cent escalator that's been in place since 2004.
— Restore public trust in environmental assessments of resource-based projects. While it develops new rules, the government has established an interim process imposing more stringent environmental hurdles and consultations with indigenous peoples. But the National Energy Board's review of the controversial Energy East pipeline proposal has been stalled due to complaints about NEB members meeting privately with proponents of the project.
— Lift the two-per-cent cap on annual First Nations program funding. Indigenous Affairs Minister Carolyn Bennett insists the cap was lifted in the government's inaugural budget, which included a "historic" investment of $8.4 billion over five years for aboriginal education, water systems, family and child services and other programs. But some First Nations chiefs are suspicious that the cap won't actually be lifted for another year.
Note to readers: This is a corrected story. An earlier version had a typographical error in the 'Still to Come' section.
By Joan Bryden, The Canadian Press
http://www.mykawartha.com/news-story/6917490-year-one-liberal-promises-kept-and-broken/
Trudeau Gets A 'C' Rating For Failing To Deliver On Promises
Posted: 10/24/2016 10:25 am EDT Updated: 10/24/2016 10:35 am EDT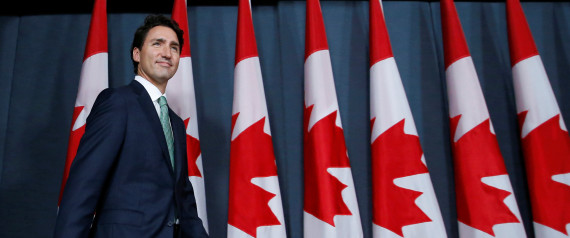 Last week when on CTV's True North Political Panel I was asked to give Trudeau a rating for his first year in office. I gave him a "C" not because I am so partisan, that I can't say anything positive about him, but because the jury is still out on promises kept or not kept etc.
When you make a lot of promises, you have a lot of voters and special interest groups waiting for you to deliver on them.
I saw one article that said he has only kept about 16 per cent of his promises to date. To be fair no government can deliver on everything in their first year. As the Trudeau Liberals are finding out, promises cost money and even free spending Liberals have to draw a line on what gets spent now and what gets pushed further down the road. Some of that is hidden under the guise of "consultation."
In his first few months in office all he had to do was show up for work and not trip going up the stairs and the media would give him rave reviews. We are finally seeing more reporters beginning to question the action and also the inaction of the government on various files. As we saw with the
limousine scandal
, ministers are under closer scrutiny and some of the shine has come off of the Liberal government.
When you make a lot of promises, you have a lot of voters and special interest groups waiting for you to deliver on them. They can become very impatient with a government very quickly. His recent waffling on electoral reform is but one example of a file that can blow up in his face. His lack of action on moving forward with files that are crucial for the First Nations and the lack of funding set aside to address their issues is another one.
You may recall that back on February 16th, I wrote about
Trudeau's spending in his first 100 days in office
. He spent a total of $5.3 billion of which $4.3 billion was spent outside of Canada. I predicted then that the needs of First Nations would be pushed aside. While the Liberals made a show at funding, a lot of it was pushed to after the next election.
Recently a report was released by bureaucrats in Ottawa that it would cost
$2 billion to bring 115 schools up to standard
. Of course the money isn't there now to do so. It was spent to look good in Paris and elsewhere. This is one more file that has the potential to go sideways on Trudeau.
Until Trudeau starts to deliver on his promises he rates a "C."
We have the ongoing war in Syria and the war in Iraq and some of our troops are assisting the Kurds. It's a risky and dangerous mission, one that this "open and transparent" government has gone strangely silent on. This is another file that they can have little control over on a day to day basis.
New governments always find that files that the previous government rejected get dusted off by departments and they are presented again to the new government. Back in April of 2010 I was blogging about the rumours that Canada would be sending troops on an UN African mission. At that time the speculation was the Congo and that General Leslie who has since been elected to the House of Commons, was to be the mission commander. It didn't happen but here we are in 2016 and there is renewed talk of a UN African mission. This is one more file that can quickly become a mess for this government.
Decisions that are pushed off in the first year or two of a mandate inevitably come to a "yea" or "nay" point in your last two years. With all the promises made and all of the ones not kept to date that is a lot of voters who will be unhappy as the Liberals move into election mode. Until Trudeau starts to deliver on his promises he rates a "C."
http://www.huffingtonpost.ca/keith-beardsley/trudeau-year-one_b_12609458.html
Page 2 of 2 •

1, 2
---
Permissions in this forum:
You
cannot
reply to topics in this forum