Page 17 of 17 •

1 ... 10 ... 15, 16, 17
Little Legion celebrates long history
Roberts Creek

CHRISTINE WOOD / SENIOR STAFF WRITER

AUGUST 10, 2017 11:07 AM
Roberts Creek Legion Branch #219, circa 1958, showing the original cabin building. The Little Legion celebrates its 70th anniversary this year. The public is invited to a family-friendly event on Aug. 12, with cake cutting at 1 p.m.

Roberts Creek Legion 219 – The Little Legion – is celebrating 70 years in the community this Saturday.
The all-ages celebration will have activities for the kids, live entertainment, a barbecue by donation and a cake cutting ceremony at 1 p.m. at the Legion, located at 3064 Lower Road.
The Little Legion has a lot to celebrate, from its meagre beginnings as a fishing cabin to overcoming a near-death experience just four years ago.
While a group of veterans started meeting in a Roberts Creek basement in 1946, ultimately receiving a Legion charter in 1947, it was the fundraising effort and vision of veterans Jack Hamon and Jack Eldred that made a freestanding Legion possible in 1958.
"After hosting fishing derbies, they purchased a small fishing cabin in 1958 which became home to Royal Canadian Legion Branch 219 Roberts Creek," said current president Diane McIntosh.
"The original building was just a quarter of the size of what it is now, but the original cabin is still there. It's just been added onto."
The cabin structure is still visible on the front right hand side of the Legion when facing it from Lower Road.
"We can actually see where there is an old bulkhead in the building and that's where the original Legion ended,"
The small space served veterans well in the area until the early '70s when it was expanded. The Little Legion was again expanded in the '80s when Ron Oram and a crew of dedicated diggers spent a year burrowing out a basement.
"That's where the snooker room is now," McIntosh said.
A smoking room was added in 2003 to comply with new laws, but that room is now used for meetings, as smoking has been moved outside.
The Little Legion now has room for a small dance floor and stage, kitchen and bar, a pool table, dart boards and seating for over 100 guests. The building also can be rented out to groups for private events.
While the Legion space has expanded over the years, the Legion membership has dropped as veterans have passed away and it's been hard to attract new members, despite the change several years ago that made it possible for any adult to join.
Due to the decline in members and patrons at the Legion, it was in dire straits about four years ago.
"The executive at that time announced that the Legion was in serious financial debt and needed to fundraise about $7,000 in three months, and as they felt that was not able to happen they were letting the community know they felt there was nothing that could be done," McIntosh said.
"But a group of members calling themselves Team 219 were willing to jump in, so we struck a fundraising committee and in three months raised nearly $10,000 from the community and members. Everybody just threw themselves into it."
One of the more popular fundraisers the committee put on was called A Close Shave for the Legion and it saw three members shave their heads on the mandala at Creek Daze at 2:19 p.m. for the cause.
"We made about $3,000 from that alone," McIntosh said. "It was our cook and our bartender and one of our members."
While the money raised was enough to save the Legion that year, members realized it would take more to keep the doors open in the long run so they changed up some programing and tried to attract a new crowd.
"We tried to address everybody's critique or concern, what they wanted to see at the Legion," McIntosh said.
The changes led to a wider variety of entertainment, as well as Friday night dinner music and trivia nights.
"We just kept trying to answer everybody's needs and also tried to attract the younger members, which are the next generation."
She said the biggest barrier to increasing membership at the Legion is the misconception about it. "People don't understand that anybody can join. They don't understand that it's a community service organization and people don't understand that it is not a government-run organization and that it is not a supporting war organization," she said.
The Legion does support veterans and it also gives back to the community through bursaries and grants.
While the Legion isn't on the verge of closure any more, securing new members is imperative to its health and longevity in the community that it has served for seven decades.
Half-price memberships for the rest of 2017 will be sold at the anniversary event this Saturday. Membership comes with privileges like discounts on events and the ability to bring guests to the Legion.
McIntosh hopes the community will come out between noon and 6 p.m. on Aug. 12 to tour the Legion, learn more about it and celebrate its history in the Creek.
Learn more at
http://www.robertscreeklegion.ca/

http://www.coastreporter.net/community/features/little-legion-celebrates-long-history-1.21769293

Trooper

CSAT Member




Number of posts

: 5247


Location

: New Brunswick


Registration date :

2013-02-18



Sault couple's story to become a national treasure (5 photos)
Sault woman and husband to donate over 400 wartime letters to Canadian War Museum; letters from Sault veteran to sweetheart are heartwarming and heart rending
Aug 10, 2017
By: Darren Taylor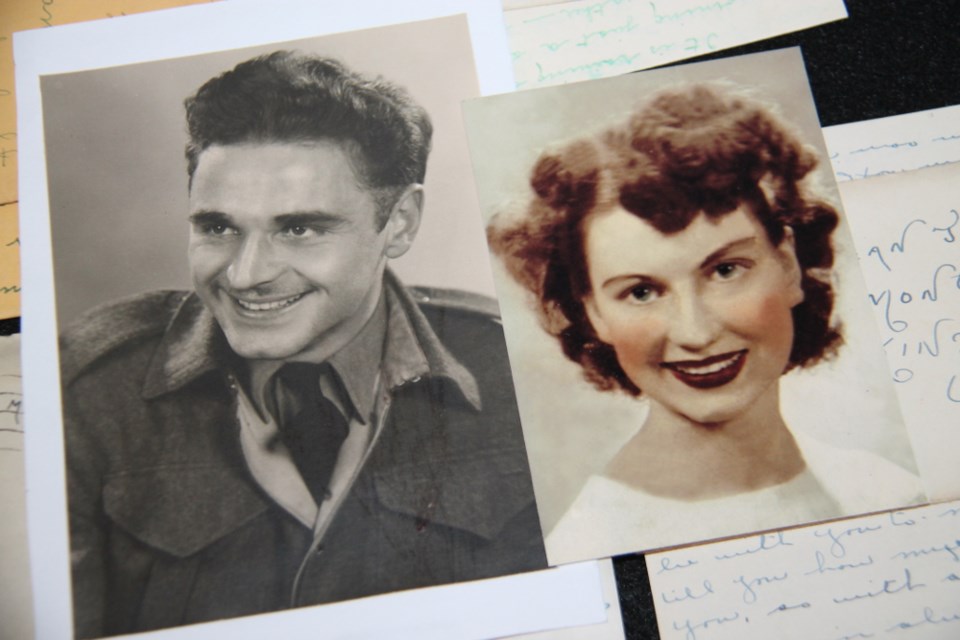 1 / 5 Carl Mann, Sault native and veteran, wrote over 400 letters to his sweetheart and future wife Jean during the Second World War. Photos supplied by Donald Mann and Johanne Messier-Mann. Darren Taylor/SooToday
The Sault's Johanne Messier-Mann has completed a project to honour her late father-in-law and for future generations to learn from.
Mann's father-in-law, Second World War veteran and Sault resident Carl Mann, who passed away in 2015 in his 94th year, left his vast collection of wartime letters for Johanne to preserve.
Mann had written his wartime sweetheart and future wife, Jean Jewitt, a total of 492 letters between 1942 and 1946.
After carefully reading each one, many of them faded with age, and transcribing each letter's words on to her computer, Johanne and husband Donald Mann (Carl and Jean's son) have decided to donate the letters to the Canadian War Museum in Ottawa.
"The letters (kept by Jean, who passed away in 2004 at 80) sat at my parents place for 72 years.  This was the first time these letters had been opened in over 70 years," Donald said.
"The letters were so important to them," Johanne told SooToday.
"It was a lifeline to them.  He mentioned he once received 10 of Jean's letters almost all at once, but at other times he had not received one of her letters for as long as a month."
In the Second World War, long before any kind of instant electronic communication such as texting, email or Skype existed, and unable to place long distance calls, letters were indeed a lifeline between loved ones separated by war and thousands of miles.
And, unlike the tone of today's electronic communication, men and women poured their emotions, such as their hopes, fears and affectionate longing for each other into the written words contained in those letters.
"He gave the letters to me and he said 'I know you'll know what to do with them,'" Johanne said.
"She was the only one who had the stamina to go through all of those letters," Donald said, in praise of Johanne's research and dedication.
Johanne said she would undertake the project once she retired from the nursing profession.
She opened the box of letters and spread them out on an extended kitchen table in her home, sorting them in piles by month and year, and read them in four months.
"The letters were love letters, and he was always concerned about his family being okay and asked about the weather at home… some of them contained some very interesting excerpts," Johanne said.
Carl Mann and Jean Jewitt met in 1942, and two weeks after that first meeting Carl left for England to serve overseas.
It was love at first sight and a love that lasted, as the couple stayed in contact through letters from 1942 until Carl returned home to Canada in 1946.
"You must really love somebody to stay together (through letters) for four years," Johanne said.
Carl enlisted in the Canadian Army in 1942 and trained at a Royal Canadian Corps of Signals facility near Kingston, Ontario.
Stationed in England at first, Carl's Signal Corps unit eventually crossed over to the continent, witnessing the war in France, Belgium and Germany.
The Signal Corps would follow British troops to restore and maintain the lines of communication by erecting telephone poles and wires after the carnage of battle.
Modern military communication today, of course, is information technology sent via computer, but during World War II, "you had to run miles of wire, climbing telephone poles," Donald said.
Often, Carl would have to work atop telephone poles with enemy bullets whizzing by him.
"He spoke a lot about minefields too," Johanne added.  
Excerpts from Carl's letters to Jean which Johanne shared with us are both heart-warming and heart-rending.
"I just received another of your letters.  I am so lonely it is unbearable.  It is very lonely over here just waiting for God only knows what.  I wish it (the Allied invasion of Europe) would start soon to get it over with.  Don't worry, I'll try to take care of myself as best as I can.  You mentioned joining the Air Force.  Please, do not do that.  One of us in this war is enough."  (June 13, 1943)
"I am longing every minute to return.  It makes me very unhappy that we're wasting the best years of our lives.  It'll be better when I come back.  It is very funny when I say 'when I come back,' for God only knows what will happen to us when we go into action.  All we can do is pray we come together again."  (June 23, 1943)
Before the Allies landed in Normandy June 6, 1944 to liberate western Europe, they first landed in Sicily, then the Italian mainland, in 1943, hoping to fight their way north into Germany.
Anticipated to be a relatively easy campaign by Winston Churchill, describing Italy as 'the soft underbelly of Europe,' the Italian front became known instead as 'the Tough Old Gut,' as Hitler's forces invaded the country, dug in, and fought a long and bitter campaign after Mussolini's Fascist regime surrendered to the Allies in 1943, the war on the Italian front not ending until late April, 1945.
At the time, however, Allied troops like Carl Mann were hoping for a quick end to the war through Italy.
"Did you see the news?  The Canadians were the spearhead going into Italy.  It won't be long now before it'll be all over with…maybe we'll be together for Christmas."  (Sept. 3, 1943)
"Italy just surrendered.  It won't be long now before we're in Germany itself and then Japan will get it too." (Sept. 8, 1943)
From England, Carl and his unit were sent to France in the aftermath of the June 6, 1944 D-Day landings, on June 23, 1944.
Carl wrote "it has finally started.  The Second Front is on.  What a sensation.  I'm glad it's started so we can get it over with.  It's what we've all been waiting for."
"I miss you.  I could sit down and have a good cry.  The weather's okay.  I hope it doesn't rain and make everything muddy again.  It's terrible when there is mud.  We get plastered with it.  There must be two inches thick of it on our boots."
"If anything should happen to me darling, please do not worry.  I want you to know you are the only girl I have loved in this entire world.  I pray to God to bring me back safely to you.  He is the only one who can do this for us…I'll be there for that day at the altar.  Oh, happy day!"
"There are some funny things that happened too, like a rabbit running into his tent and it scared him.  You can imagine, you hear this noise and they all come running outside and there's a rabbit.  They wanted to eat it," Donald laughed.
There was anger too.
"It was probably a relief to write down what they did (though much of the mail was censored).  The stress level was high," Donald said.
Sometimes, Allied troops were tempted to take out that stress on captured enemy soldiers.
"They captured an SS officer.  They made the comment 'we would have pumped him with so much lead they wouldn't have been able to lift him,'" Donald said.
Carl witnessed the horrors of the Belsen concentration camp in 1945.
"He was able to get himself a good camera and film for it.  The pictures he took, some of them were pretty graphic, the original ovens where they cremated people, the mass graves, piles of hair," Donald said.
Carl longed to come home to Canada after the war in Europe ended in May, 1945, but being single at the time, he found he would have to wait in line behind married soldiers, who were sent home first.
His last letter to Jean from overseas was dated Jan. 29, 1946, and Carl was eventually sent home to Canada that spring.
Carl and Jean were married June 15, 1946 in Kingston, the couple settling down in Sault Ste. Marie where Carl worked at Algoma Steel.
The couple had two sons, Donald and Stephen.
Donald is a retired Algoma Steel engineer, Johanne a retired former Sault Area Hospital chief nursing officer and Extendicare Maple View administrator.
"It's a good story.  It would make a great movie," Johanne said.
As for donating Carl's letters (along with his other military paraphernalia) to the Canadian War Museum, Johanne said "the knowledge (of the war years) has to be shared with young people."  
"Most of us, our age, our families went to war and we were in closer contact with it than younger people would be, so we want to share this with younger people."
https://www.sootoday.com/great-stories/sault-couples-story-to-become-a-national-treasure-5-photos-693047

Trooper

CSAT Member




Number of posts

: 5247


Location

: New Brunswick


Registration date :

2013-02-18



75 years later: Return of the Rileys to Dieppe
Seventy-five years after nearly 200 Royal Hamilton Light Infantry were massacred in the raid on Dieppe, a group of 'Rileys' head back to the beach in France to salute fallen comrades
Aug 12, 2017
By Mark McNeil
The beach at Dieppe looking toward the west headland, with the military waste of a battle gone wrong.
They say it was the darkest day in Canadian military history and 75 years after the disastrous raid of Dieppe the wounds still run deep in Hamilton.
Nearly 200 soldiers from the Royal Hamilton Light Infantry died on the stony beach in France on Aug. 19, 1942. Virtually everyone in the city at the time knew someone who was killed and today the carnage still haunts family memories.
Now the stage is set for what is being seen as the last major commemoration of the battle with ceremonies in France and Hamilton on the 75th anniversary date.
A group of more than 50 'Riley' soldiers, officers and family members is heading to Dieppe to join a larger contingency of other Canadian regiments to salute their fallen comrades.
The 10-day RHLI pilgrimage will also stop at other battlefields such as Vimy Ridge, the Somme, Passchendaele and Normandy to remember other fallen Rileys and other Canadian soldiers who paid the supreme sacrifice.
It's all a sesquicentennial journey through Hamilton eyes at Canada's coming of age in the blood and muck of European war — and The Spectator will be covering it along the way in the paper and online.
But one thing that will be conspicuous in Dieppe — and along the rest of the route — is the fewer numbers of veterans themselves. There is no one alive from the First World War and the ranks of vets from the Second World War have severely dwindled with survivors well into their 90s.
In the case of the RHLI, there are only two known living participants from the raid — Fred Engelbrecht, 97, and Ken Curry, 95. Both were captured and spent the rest of the war and prisoners of Nazis.
It will be the first time that a major commemoration in Dieppe France — that tend to happen every five years — did not include Dieppe veterans from the Rileys. It marks a turning point where the battle and the war are exiting living memory.
Engelbrecht said "I probably could have gone but I didn't want to go because it brings back a lot of bad memories. I lost an awful lot of friends that day."
Curry, who lives in Victoria B.C. says "when I found out that Fred was going to stay in Hamilton, I decided that I should spend the day with him."
Both are planning to attend the annual service at the Dieppe monument on the Beach Strip in Hamilton.
RHLI officials say there could possibly be other surviving Riley Dieppe vets from the 582 who landed on the beach that day. But they aren't aware of any. Last February, they were taken aback to learn that Erkki Ahonpa had died at the age of 96. The regiment had not heard anything about him for numerous years and assumed he had passed on some time ago.
His death notice said he joined the RHLI when he was 18 and was wounded at Dieppe but "because he was a strong swimmer he survived until rescued."
Also last year, one of the city's most well-known veterans of the raid, Jack McFarland, died at the age of 95.
McFarland family members will be part of the Riley group travelling to France and they will spread his ashes on the beach.
"My dad went four times to Dieppe," says son Jack McFarland Jr. "This was his request to have his ashes taken back there."
RHLI Commanding officer Lieutenant-Colonel J.P. Hoekstra says "The trip we are embarking on is a pilgrimage of sorts."
"It was a tragedy for us yet it was still a watershed moment where the Canadians were working together as a unit to liberate Europe from oppression."
Military historian Tim Cook, from the Canadian Military Museum in Ottawa, says "Dieppe was one day in a very long and bloody war, but it is a single day that continues to haunt Canadians ... There is something about Dieppe that continues to demand answers.
"It really hits you in the gut when you are at the beach. When you stand there you really do feel it. It's impossible to imagine how someone could think landing a force there would be successful."
In a matter of hours, more than 1,000 Allied troops (who were mostly Canadian) were killed. Another 2,300 became prisoners of war. All kinds of military gear was left in wreckage on the beach or submerged in the English Channel.
The element of surprise was compromised when the fleet of Allied ships came upon a German convoy. The landing was delayed with most troops hitting the beach in daylight instead of darkness. Plans to knock out fortifications failed.
When it came time for the Rileys to land at what is referred to as White Beach, they found themselves headlong in a hail of enemy fire.
"When they dropped the ramp on the boat, they were firing everything at us. When it cooled down a bit we started firing back but there wasn't that many of us to fire back. Most were lying badly wounded or dead on the beach," Curry said in an interview.
"When the bullets started to come, they were like hail. They were mowing us down. It was something terrible."
mmcneil@thespec.com

905-526-4687 | @Markatthespec
Mark McNeil is a reporter with the Hamilton Spectator.

https://www.thespec.com/news-story/7498916-75-years-later-return-of-the-rileys-to-dieppe/

Trooper

CSAT Member




Number of posts

: 5247


Location

: New Brunswick


Registration date :

2013-02-18



Historic Battle of Vimy Ridge remembered by pilots in Regina
---
Ashley Martin, Regina Leader-Post

August 13, 2017

The planes Allan Snowie has been flying lately are a little different than the ones he worked on during a 30-plus-year career piloting with Air Canada.
These aircraft are replicas of Canada's first fighter planes, the Nieuport 11.
Snowie and a team of nine other pilots have taken five planes across Canada and to France as part of the Vimy Flight, a tour honouring the 100th anniversary of the First World War Battle of Vimy Ridge.
Three were at the Regina airport for an open house on Sunday.
"The word 'honour' is thrown around a little too loosely these days," said Snowie, "but what we're doing, I feel very privileged to be doing it. To fly over Vimy Ridge, to look down on that magnificent monument, I did the first trip over and I kind of misted up my goggles."
The planes have an open cockpit, a tiny windshield and a wooden plank seat. The exterior is covered in a heavy vinyl-like fabric. The speed maxes out at 105 kilometres per hour. These planes represent the most advanced technology of 1916.
"School buses pass us," said Snowie. In a plane versus bird collision, "the bird might win."
"It's very small and the French called it 'le bebe' for that very reason, probably the smallest single-seat fighter aircraft of the First World War," he added.
The original planes had a machine gun mounted above the wing, which fired over the propeller.
The Vimy Flight tour has been a "real thrill," said Snowie, who was an air cadet and naval pilot before becoming a commercial pilot.
"You're re-enacting what they did, and these were 18-, 19-year-olds that were flying these things, not old retired geezers like myself."
He said that as a baby boomer, he is among the "last living connection with World War I veterans."
It's important to keep those stories alive, he said.
Chris Donohue agreed.
"It's something that needs to be preserved for the younger generations to say 'this is what it was like back then,'" said Donohue, an Air Canada pilot who has a degree in military history.
"This is how Canada became a nation and it's something that needs to be set down to future generations that this is where past generations came from."
"There's so much history tied up in it," said Will Chabun, a member of the Canadian Aviation Historical Society, which co-sponsored the open house along with the Experimental Aircraft Association.
He hopes seeing the planes will encourage people to read about Canadian history and think about the wartime sacrifice.
"So many young people with so much to contribute fell in our collective service at that time. I'm full of sorrow, but admiration as well," said Chabun.
"It's time to put the Canadians back being proud of their history," said Snowie, adding that Vimy Ridge was Canada's real birth as a nation.
"The farmer from the prairies met up with the orchard farmer from Niagara Falls; the fisherman from Nova Scotia met up with the fisherman from British Columbia. … This was really a coming together of Canada."
The Vimy Flight tour is stopping on Wednesday in Davidson, and will spend Friday through Sunday in Saskatoon.
http://leaderpost.com/news/local-news/historic-battle-of-vimy-ridge-remembered-by-pilots-in-regina

Trooper

CSAT Member




Number of posts

: 5247


Location

: New Brunswick


Registration date :

2013-02-18



Canadian prisoners being led away through Dieppe after the raid.
---
Dieppe presentation planned
Andy Wylie, creator of Vimy Lane, to give talk on why the Dieppe disaster was actually a success
ROGER KNOX Mon Aug 14th, 2017
A Vernon history buff will give a presentation commemorating a dark day in Canadian history.
Yet Andy Wylie's talk will focus on why the raid at Dieppe in 1942 was, in his view, a success.
Titled "Well Spent Lives," Wylie will give his presentation on the 75th anniversary of the unsuccessful Dieppe Raid Saturday from 9 a.m. to 10 a.m.
The presentation will be at Vimy Lane, the only Vimy Ridge memorial in Canada, at Wylie's residence in the 4000 block of 29th Street.
"The truth is, Dieppe was a success," said Wylie. "Winston Churchill and (Admiral) Mountbatten planned and executed the disaster at Dieppe, and Canadian lives moved D-Day from U.S. defeat in 1943 to an allied victory on June 6, 1944."
According to Veterans Affairs Canada, the Dieppe Raid – code-named "Operation Jubilee" – saw more than 6,000 men come ashore at five different points along a 16-kilometre stretch of the heavily defended coastline.
Things went immediately wrong for the landing force on the eastern flank as they were met by a small German convoy, and the ensuing firefight alerted the enemy.
While the losses were heavy and the raid did not meet most of its desired objective, historians feel lessons learned at Dieppe played an important role in the success of later action. Wylie concurs.
Of the 4,963 Canadians who embarked upon Dieppe, only approximately 2,200 returned to England and many of those had been wounded. A total of 916 Canadians were killed as a result of the raid, and 1,950 more were taken prisoner.
Those wishing to attend Wylie's presentation are asked to bring a chair, and walk or bike to Vimy Lane.
https://www.vernonmorningstar.com/community/dieppe-presentation-planned/

Trooper

CSAT Member




Number of posts

: 5247


Location

: New Brunswick


Registration date :

2013-02-18



City man to travel to Dieppe
---
BY MABELL, DAVE ON AUGUST 14, 2017.

Dave Mabell

Lethbridge Heralddmabell@lethbridgeherald.com
A Lethbridge man will join thousands of Canadians commemorating one of this nation's most famous military events.
For Trevor Anderson, it will be his first visit to Dieppe, on the north coast of France. It was there, 75 years ago this Saturday, that more than 900 Canadian soldiers lost their lives on a beach during a pivotal raid on Nazi-controlled land.
Nearly 5,000 Canadians led the 1942 raid, and Anderson's grandfather was one of the ones who survived. But he was captured by the enemy and spent years as a prisoner of war.
Archie Anderson was farming south of Calgary before he enlisted with the King's Own Calgary Tank Regiment. Anderson Road, now an urban thoroughfare, is named in his memory.
"The bulk of the men (in the raid) were Canadian," his grandson says. "About 2,000 of them were taken prisoner."
Archie Anderson – later awarded the Military Medal – was taken to various "stalag" camps in Poland, then later sent on a three-month forced march west as Russian troops began to contain the Nazi forces.
"The Germans were hoping to use them as bargaining chips," Trevor Anderson believes.
After the successful D-Day Invasion in 1944 – based heavily on lessons learned at Dieppe – the captive Canadians were sent to England to recuperate. Nevertheless, Anderson says his grandfather returned home a shadow of his previous 185 pounds.
In years since, other members of the family have had an opportunity to visit the historic site as well as other time-honoured battlefields where Canadians fought and died for their country.
Now Anderson is planning to visit several of those after attending memorial events at Dieppe.
"There will be several ceremonies there," he understands.
One will be in "Canada Park," a protected area facing the beach.
"Maybe we'll stop at Vimy Ridge, or Dunkirk."
Calgary MP Kent Hehr, minister of veterans' affairs, will lead observances Saturday in Dieppe.
In Calgary, Lieutenant Governor Lois Mitchell will join members of the King's Own Regiment Association for a 10 a.m. ceremony Saturday at the Calgary Military Museum on Crowchild Trail SW.
http://lethbridgeherald.com/news/lethbridge-news/2017/08/14/city-man-to-travel-to-dieppe/

Trooper

CSAT Member




Number of posts

: 5247


Location

: New Brunswick


Registration date :

2013-02-18



Red Deer County development to name streets after area soldiers killed in First, Second World War
---
MURRAY CRAWFORD Tue Aug 15th, 2017
Four roads in a rural residential development will be named for Central Alberta war veterans.
Poplar Pointe Estates received four new names for its streets, all named for members of the Whyte family who served during the First and Second World Wars.
Despite objections to the development itself, Coun. Christine Moore liked the proposal.
"Although I've been vehemently opposed to the subdivision, but if it is to be I have no objection to the roads being named after veterans who gave their lives as soldiers," she said.
The 39-unit residential subdivision west of Red Deer is still under development.
The four new street names include Whyte Memorial Drive, Jack Whyte Place. Wilfred Whyte Street and Cecil Whyte Road. Wilfred was a recipient of a Military Cross, which was awarded to officers of British Commonwealth countries since the First World War. Wilfrid and his brothers Cecil and Reginald lived in Edmonton. Wilfred died on October 1918, in France after he was critically wounded.
Cecil died when his plane was shot down in Belgium. Reginald was the sole Whyte brother to survive the war and settled in Red Deer to become a leading citizen. Cecil's diaries from the war are now kept at the Red Deer archives.
Jack is the oldest son of Reginald and went to school in Red Deer. He joined the Royal Canadian Air Force and received his wings in 1943 in Claresholm. He was killed on active duty in February 1944.
"I like the idea of honouring our veterans," said County Mayor Jim Wood. "It doesn't follow our policy of subdivision naming, but I'm fully in favour of honouring our veterans."
The signs will be installed at the cost of the developer. However, standard municipal addresses that conform to the county standard identifying Range Road or Township Road and address will be assigned to the properties in the subdivision.
https://www.reddeeradvocate.com/news/red-deer-county-development-to-name-streets-after-area-soldiers-killed-in-first-second-world-war/

Trooper

CSAT Member




Number of posts

: 5247


Location

: New Brunswick


Registration date :

2013-02-18



Page 17 of 17 •

1 ... 10 ... 15, 16, 17
---
Permissions in this forum:
You
cannot
reply to topics in this forum