ON TARGET: Mali bad bet for new Canadian troop deployment
SCOTT TAYLOR | ON TARGETPublished February 12, 2017 - 11:37am
Last Updated February 12, 2017 - 11:38am

Defence Minister Harjit Sajjan esponds to reporters questions at a news conference at CFB Bagotville in Saguenay Quebec on Friday, August 26.
Since last August, it has been known that the Liberal government is intent on sending a force of peacekeepers to a United Nations mission somewhere on the African continent.
Canadians have been told there will be approximately 600 soldiers deployed and the budget will be approximately $450 million. What we still don't know is to which UN mission these Canadian Blue Helmets will be sent, and that means there is no way to gauge what measure of success we can hope to achieve.
The betting money is still on Mali being the mission Canada will most likely reinforce, but if that is the case, then the number of troops and dollars committed would mean that this is just another exercise in useless tokenism.
There will be no quick fix in the Mali quagmire.
The current crisis erupted in 2012 following the collapse of Moammar Gadhafi's regime in neighbouring Libya. Nomadic Tuaregs and al-Qaeda in the Islamic Maghreb (AQIM) armed themselves from the abandoned Libyan arsenals and quickly overran the demoralized Malian government troops in the northern province.
To avert a complete collapse, France deployed a military expeditionary force — with the assistance of airlift support from the RCAF — to its former colony. The French were able to drive the AQIM from their self-proclaimed caliphate, but the spirit of Tuareg separatism still burns bright in the region.
In July 2016, the UN stood up the current peacekeeping mission, which presently has a combined military and police strength of close to 15,000 international personnel. Despite the scale of this UN deployment, the rebels continue to resist and, with 101 peacekeepers killed in Mali to date, it remains the UN's most deadly mission.
The final objective, or "victory" in the case of this international intervention, is also not clearly defined.
Mali's boundaries were drafted by the European colonial powers using straight lines on a map. As such, the Sahara-dwelling Tuaregs have almost nothing in common culturally or linguistically with their fellow Malians in the south. The current regime in Bamako is also considered one of the world's most corrupt, and one can therefore somewhat empathize with the Tuaregs' separatist sentiment.
Have we learned nothing from our 11-year commitment to the U.S.-led NATO mission in Afghanistan?
Canadian politicians, diplomats and military brass repeatedly told the public that the Canadian military was "punching above its weight" in Afghanistan. To prove that point, they highlighted not only the size of our contingent but also the fact that Canada suffered the highest ratio of combat casualties among all of her allies. Despite that contribution, Canada never had a seat at the big-boy table. Any and all major strategic decisions were ultimately made by the U.S. State Department and the Pentagon.
Our Canadian soldiers, Canada's sons and daughters, spent more than a decade spilling their blood, propping up a corrupt cabal of former warlords who were ostensibly "elected" under the farcical election processes staged by the West. Our troops in Kandahar were not hated because they were Canadian; they were hated because they were seen as the enforcers of the hated Kabul regime.
A total of 158 Canadian soldiers were killed in Afghanistan and more than 2,000 more service members were injured or wounded. Added to this growing list of casualties are the countless number of Afghanistan veterans who are still suffering from the invisible wounds of PTSD.
We did not succeed in Afghanistan and, despite the U.S. military's continued presence there, the country is fast devolving back into a failed state that is awash in lawless violence and abject poverty.
This failure to defeat the Taliban and stabilize Afghanistan only serves to highlight the senseless sacrifice made by our soldiers. They endured hell, witnessed comrades killed and maimed for life, all in the service of Canada but with no actual tangible positive effect.
Now it seems we are about to deploy a fresh wave of keen young soldiers to a complex conflict, wherein no one seems to know how to clearly define what a "victory" would look like. Let's hope that saner heads prevail and that the Liberals push the "rethink" button before committing our troops to Mali or any other no-hope missions in which we have no vested national interest.
About the Author
SCOTT TAYLOR | ON TARGETScott Taylor is editor of Esprit de Corps magazine
staylor@herald.ca
http://thechronicleherald.ca/opinion/1441035-on-target-mali-bad-bet-for-new-canadian-troop-deployment
TAYLOR: Trudeau's Liberals may be setting military up to failSCOTT TAYLOR
Published December 29, 2016 - 4:37pm
Iraqis displaced from Mosul receive aid distributions at near Qayara, Iraq on Dec. 28.
The Trudeau Liberals have been at the federal helm for over one year now, and the grace period afforded any new government is rapidly coming to an end. During the election campaign Trudeau had promised to end Canada's combat role in Iraq. Once in power, the Liberals settled for the compromise solution of not renewing the combat air mission when it was scheduled to expire last February.
While the CF-18 fighter jets were in fact re-patriated to Canada, the refueller and reconnaissance aircraft continue to support the U.S.-led air campaign in Iraq and Syria. As for boots-on-the-ground, the Trudeau Liberals actually increased the number of Special Forces trainers deployed to assist the Kurds in the battle against the Daesh evil-doers. The training role originally assigned to these Canadian commandos was soon defrocked when it was reported these 'trainers' had been involved in numerous firefights. Afraid to be caught exceeding their political masters' mandate, military brass went to great lengths trying to explain to Canadians how firing rifles and rockets in battle is not 'combat,' so long as you are doing so in self-defence . . . or defence of others . . . or in order to eliminate a threat that might later endanger you . . . or anyone at anytime for that matter.
Soldiers on the ground know all too well that combat is combat, and unfortunately due to the official policy of denial, a lot of heroic deeds done on the battlefield by Canadian Special Forces will go unrecognized. That said, despite the campaign promise to pull Canada out of another violent quagmire under the Liberals we are even more directly involved in the fight against Daesh.
The allied siege against Mosul — Daesh's last stronghold in Iraq has been underway for more than two months now. While it may take many more weeks to eliminate the last of the Daesh fanatics, allied planners have suggested that resistance will not end with Mosul's recapture. What is feared is that Daesh will simply change tactics and launch a campaign of terrorist attacks throughout the entire country. Canadian military sources have indicated that if such a scenario unfolds, our troops would still have a role to play in northern Iraq. In other words, we are slowly being dragged deeper into an unwinnable quagmire of a multi-factioned civil war, in which we have absolutely no influence over the eventual outcome.
Then, of course, there was the Liberal promise to get Canada back in the game of UN peacekeeping. After announcing in August that 600 Canadian solders would be deploying to Africa, it seems that the government will soon announce that the actual destination for these peacekeepers will be Mali.
The original UN mission there, known as MINUSMA, was established in April 2013 in response to the northern half of the country being overrun by separatist Tuaregs allied with Islamic extremists flying the flag of al-Quaeda in the Islamic Maghreb (AQIM). France had sent a military intervention force to assist the demoralized Malian military to regain the lost territory, but to this day the Tuaregs and AQIM fighters continue to wage a bloody insurgency. The presence of 12,000 UN peacekeepers from 48 different countries has only led to a lengthening list of casualties among the blue helmets. With over 100 peacekeepers killed to date, Mali is the UN's deadliest mission. It is also one that bodes little chance of ultimate success. The semi-nomadic Tuaregs in Mali's northern Saharan territory want nothing to do with the corrupt regime in Bamako, the country's capital in the southern sub-Saharan region.
If these Tuaregs have violently resisted their fellow countrymen, the French military and now the amassed UNCa forces, why would they submit to a young Canadian soldier from Red Deer, Alberta, or Baie-Comeau, Quebec?
Embarking on a dangerous UN peacekeeping mission, one which has no clearly stated objective or easily attainable goal, for the sake of getting Canada back in the good books of the UN is pure folly. Our veterans of Afghanistan are still suffering the mental anguish associated with waging a counter-insurgency against a hostile local population in order to prop up the corrupt regime in Kabul. Do we really need a fresh crop of disillusioned soldiers returning from a failed mission in Mali?
http://thechronicleherald.ca/opinion/1427953-taylor-trudeau%E2%80%99s-liberals-may-be-setting-military-up-to-fail
Canada cannot 'sit back' in a dangerous world, Justin Trudeau says
Canada cannot afford to "sit back" in a dangerous world, despite the potential dangers of an upcoming peace mission that could put soldiers in harm's way, Prime Minister Justin Trudeau says.
By
BRUCE CAMPION-SMITH
Ottawa Bureau
Sun., Dec. 4, 2016
Canada cannot "sit back" in a dangerous world, despite the potential dangers of an upcoming peace mission that could put soldiers in harm's way, Prime Minister Justin Trudeau says.
In a meeting with the editorial board of the Toronto Star on Friday, Trudeau provided a hint of the risks and rationale for the upcoming mission, along with a commitment to spell out to Canadians "all the factors that went into making the decision."
Mindful of Canada's long engagement in Afghanistan — and the question of whether it had lasting effect — Trudeau said Canada's upcoming peace mission will seek to be more than a "Band-Aid" and instead endeavour to provide lasting stability, he said.
The Star has reported that the deployment is probably headed to Mali, home to one of the most dangerous United Nations missions, raising the real prospect that Canada's mission could take casualties if that deployment becomes a reality.
Trudeau said the government is being "very, very thoughtful" about those kind of risks and potential outcomes of the operation.
"That's the calculation you have to do, to a certain extent — how can we both create the peace, stability, positive outcomes that we want, at a level of minimal risk to Canadians?
In a meeting with the Toronto Star Editorial Board, Prime Minister Justin Trudeau cautioned that Africa might not be the only focus of his government's peace initiatives.
"We have a dangerous world right now, there's no question about it. And, we cannot simply sit back and say 'We're not going to do anything about it'— because, we know, that instability around the world does end up affecting us here, in Canada. So we have a responsibility, we have an opportunity, to engage it," the prime minister said.
Trudeau cautioned that Africa might not be the only focus of his government's peace initiatives, which are expected to be debated soon by cabinet.
"I think everybody knows it's likely to be Africa, but until we make a final decision, then it may be 90 per cent in Africa and 10 per cent somewhere else. I mean there's a broad range of things that we're going to be looking at," Trudeau said.
Certainly Africa has been a focus of much the government's pre-deployment planning as it deliberates where to deploy up to 600 soldiers and 150 police officers along with $450 million in funding over three years. Defence Minister Harjit Sajjan has made two fact-finding missions to countries on the continent. International Development Minister Marie-Claude Bibeau made her own trip to three African nations in late August.
Trudeau made plain that the mission will attempt to help set in motion lasting changes, to be "part of a trend-line towards greater stability and security in whichever region we end up in."
"It's not enough to just fix a punctual problem. I think we know that there's a level of continual engagement, which doesn't mean unlimited or unbounded, but it does mean a level of engagement that is more focused on evolving the situation towards peace, rather than imposing it in a way that will flare up as soon as we pull out."
Defence Minister Harjit Sajjan has made two fact-finding missions to countries in Africa.
Trudeau said that the federal government has learned from past engagements, notably Afghanistan, where he concedes the record of enduring success is a mixed one, despite a military mission that stretched more than 10 years, cost the lives of 158 Canadian soldiers and left several thousand more suffering the physical and mental wounds of their deployment.
The prime minister said he disagrees with any suggestions Canada didn't make a "significant positive difference" in Afghanistan.
"As much as we might have hoped for? Probably not, obviously not," Trudeau said.
Indeed, on key measures he himself cited — more opportunities for girls to attend school, more stable governance structure, opportunities for peace and security and economic growth — Trudeau conceded that the record was mixed.
"I would say that it's been a very challenging situation," the prime minister said.
"I think there are definitely indicators that we've managed to improve. There are others that we haven't managed to," he said.
He singled out governance as one area where Afghanistan has a "long way to go."
"They're still a country struggling with levels of corruption, with levels of insecurity. . . . regional divisions that are less than ideal for a stable, successful state," he said.
But moves by the Taliban to reclaim territory and influence in Afghanistan have again raised questions whether the long and costly military intervention by Canada, the United States, United Kingdom and others made a lasting mark.
That question looms large for Canada as it ponders a sizable military deployment to another trouble zone.
"I think one of the things that's very clear is that we learn," he said, saying that the Afghan mission helped shape the ongoing mission in northern Iraq, where Canadian soldiers are mentoring peshmerga troops
"Every step of the way, we get better at understanding the nature of conflicts the world is facing right now, and how Canada can play a constructive role, consistent with our abilities and our competitive advantages," he said.
But as cabinet gets ready to make a decision, the Senate committee on national security and defence last week issued a report that warned that the upcoming mission will be risky and complicated.
"The security environment where the UN missions now deploy has grown increasingly complex and dangerous as armed conflicts and tribal tensions become more fragmented and multi-dimensional," the report said.
"UN peace operations increasingly face asymmetric threats on the ground. This trend has led to rising death tolls in UN missions taking place in Africa, particularly Mali," it said.
The report called on the government to table a "statement of justification" setting out the size of the mission, its goals and risks, the costs, details for a "fixed-term" withdrawal plan along with "clear" rules of engagement that permit troops to defend themselves and civilians.
Senators also want the government to ensure that soldiers returning from the mission are looked after, especially those who develop post-traumatic stress disorder as a result of their deployment.
https://www.thestar.com/news/canada/2016/12/04/canada-cannot-sit-back-in-a-dangerous-world-justin-trudeau-says.html
TAYLOR: Let's not repeat past mistakesSCOTT TAYLOR
Published November 27, 2016 - 2:39pm
Last Updated November 27, 2016 - 2:42pm
Heavily laden with their full kit, members of the 3rd Battalion, Princess Patrica's Canadian Light Infantry (3 PPCLI) Battle Group march to the Chinook helicopters waiting to transport them into the mountains near Gardez in eastern Afghanistan in March 2002. The lessons of Afghanistan, where victory was never clearly defined, should be considered before deciding on the role Canadians will play in a peacekeeping mission to Africa.
Last August, Chief of Defence Staff General Jonathan Vance first announced that Canada would soon embark on a peacekeeping mission to Africa, and Minister of National Defense Harjit Sajjan then confirmed it. They explained that this venture would involve about 600 troops and cost an estimated $450 million.
To date, despite multiple fact-finding trips to various hotspots on the African continent, the Liberal government has yet to determine to which conflict we will be committing our soldiers. Perhaps before deploying these 600 soldiers into the midst of a foreign war, we should re-examine our recent past.
For 12 long, bloody years — from 2002 until 2014 — some 40,000 Canadian troops deployed as part of the U.S.-led allied military intervention in Afghanistan. During that time 158 soldiers came home in a flag-draped coffin, with another 2,000 suffering from physical wounds or injury.
Not as easily calculated is the untold number of Afghanistan veterans who are coping with the unseen mental wounds suffered as a result of the horrors they witnessed while deployed. Commonly referred to as post-traumatic stress disorder and as operational stress injuries by the Canadian military, the mental toll suffered continues to result in additional fatalities directly linked to the Afghan conflict.
In a recent series of investigative reports, the Globe and Mail revealed that at least 70 Canadian soldiers have taken their own lives after returning from tours of duty in Afghanistan. That suicide rate has led many to criticize the military's apparent lack of proper psychological support facilities for our broken soldiers. The fact is that, while they may still face a steep learning curve, today's Canadian Armed Forces and Department of Veterans Affairs have a far better understanding of PTSD and OSI than any previous generation.
In the First World War the military labelled it shell-shock and in the Second World War it was called battle fatigue; both monikers implied that the suffering soldier was lacking in moral fibre or, simply put, a coward.
Military members take part in the Day of Honour ceremony at Grand Parade on Friday, May 9, 2014. The ceremony honoured the 40,000 men and women of the Canadian Armed Forces who served in Afghanistan as well as the hundreds of civlians who helped contribute to Canada's 12-year mission in Afghanistan.
Thanks to a far better understanding of human psychiatry, the Canadian military now recognizes that PTSD and OSI are actually mental wounds, and therefore every bit as self-sacrificing as the visible physical scars borne by veterans.
What is not often discussed is the root cause for the preponderance of mental wounds among modern veterans. The simple explanation for this is that Afghanistan was Canada's first lost war. While our soldiers never actually lost a battle nor were they driven out of Afghanistan by superior forces, the truth is that we lost that war.
The First World War was horrific, yet Canada's scarred survivors came home believing they had just fought "the war to end all wars." The Allies had won; Germany was bled white and forced to sue for peace.
Ditto for the Second World War, wherein the tragic losses and terror of the battlefield were offset by the liberation parades through Europe and the eradication of Hitler's Nazi regime. Those who returned to Canada were even more succinct in their summary of their experience: The War Amps of Canada adopted the motto "Never Again."
For the 25,000 Canadians who deployed to Korea between 1950 and 1953, and the 516 who were killed in the "Forgotten War," their sacrifice ensured that South Korea remained an independent nation.
However, for those soldiers that we deployed to Afghanistan, it was not always a one-off lifetime experience, as many soldiers served on multiple six-month tours. Unlike the French and Dutch populations of the Second World War who welcomed our troops as liberators, Canadians in Kandahar province faced an extremely hostile citizenry.
When the Harper Conservatives finally pulled the plug on the Afghanistan mission, the best they could dub the ceremony recognizing the event was a National Day of Honour. The veterans of Afghanistan experienced all the tragedy without the joyous relief of a victory parade.
While it is important to remember the sacrifices made in Canada's glorious victories, it is even more important for us to fully recognize the continued suffering and dying of our Afghanistan veterans. We sent them off to fight a war without a clear objective, a war they could not win.
Let's not make the same mistake in Africa.
http://thechronicleherald.ca/opinion/1419389-taylor-let%E2%80%99s-not-repeat-past-mistakes
Confusion continues over Canadian military mission to Africa
DAVID PUGLIESE, OTTAWA CITIZEN
Published on: November 12, 2016 | Last Updated: November 12, 2016 1:23 PM EST
Defence Minister Harjit Sajjan.The confusion over the upcoming Canadian Forces mission to Africa continues.
The commitment has been rolled out in a strange way to say the least.
First there was Chief of the Defence Staff Gen. Jon Vance saying in July that the Canadian Army would soon be headed to Africa.
That was followed in August by Defence Minister Harjit Sajjan saying troops would be going to Africa.
A month later Vance came out and in an interview with the Daily Gleaner newspaper said there was no African mission.
Then on Friday, the Toronto Star conducted an interview with Sajjan. The minister said that there was going to be an African mission…a number of them actually. Canada was committing to three years in Africa, he added.
"What we do provide will be enduring," Sajjan told the Star. "We committed for three years, but the thinking is to have the impact, we always need to assess."
Not so fast.
The Huffington Post is now reporting Sajjan's office has issued a statement about that supposed three-year commitment. Sajjan's press secretary, Jordan Owens, told The Huffington Post Canada that the minister "got a little bit ahead of where we are as a government."
"Three years is part of the suite of options that will be considered, but this hasn't gone to Cabinet yet for a decision," she added in an email.
http://ottawacitizen.com/news/national/defence-watch/confusion-continues-over-canadian-military-mission-to-africa
And if we go to a place like Mali, I can assure the Defense Minister that Canada will not turn Mali into an African oasis of peace and stability. It won't happen.

Nemo

CSAT Member




Number of posts

: 334


Location

: canada


Registration date :

2010-08-13



This is a HUGE joke. I agree with Ambrose that there is no peace to keep in Africa. Without a doubt Canadian troops are excellent. But we can't change people's mindsets. We can't defeat terrorist organizations. Afghanistan is an example. Our troops did their jobs well but ultimately Afghanistan is no better today than before Canadian troops went there. Same goes for the Iraq war?.What did it accomplish? SUre. got rid of saddam but it did not create stability and peace in Iraq. It made everything worse. But The Iraq war did lead the way for a group like ISIS to do what they did. And the west bombing Libya only created more chaos. Sure..remove Ghadaffi and then what? Just like this fight now in Mosul and then onto Raqqa. Canadian troops are assisting in a limited capacity but after ISIS is removed from certain areas, they will never be defeated. And once these places like Mosul are cleared out, then what? Who will rebuild? Who will provide security? And can any group in that area leave in peace together anymore?

Nemo

CSAT Member




Number of posts

: 334


Location

: canada


Registration date :

2010-08-13



Harjit Sajjan Rejects Tory Charge UN Peacekeeping In Africa Like Leading 'Lambs To The Slaughter'
The Huffington Post Canada    By Ryan Maloney
Posted: 11/04/2016 2:22 pm EDT Updated: 11/04/2016 2:22 pm EDT
The federal defence minister is beating back Conservative charges that Canadian troops set to be deployed on a peacekeeping mission in Africa could be led like "lambs to slaughter."
Harjit Sajjan faced questions in the House of Commons Friday about his remarks at a town hall session with Ottawa high school students the day before. Sajjan said Canada's contribution to a United Nations mission can't just be about preventing violence but must also address the "root causes" of that fighting, including radicalization.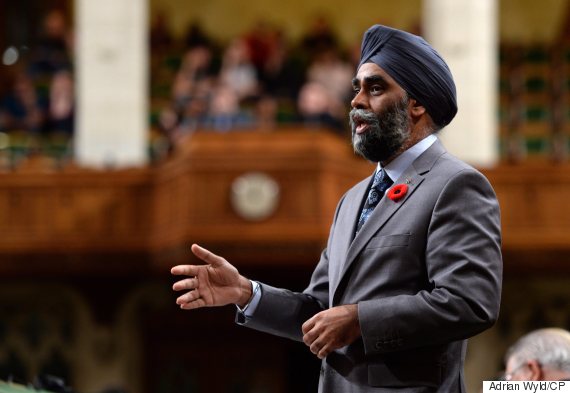 Defence Minister Harjit Sajjan speaks in the House of Commons on Nov. 4, 2016. (Photo: Adrian Wyld/CP)
Prime Minister Justin Trudeau was later asked at a news conference how Canadians can be expected to tackle the root causes of strife in African nations dealing with ethnic or tribal rivalries or corrupt governments.
"Canada has an awful lot to offer other than just stopping people from shooting at each other," Trudeau said, adding that Canadians expect a "layered approach" that attempts to create long-term security.
In question period Friday, Tory defence critic James Bezan demanded to know if Canadian troops will be able to defend themselves when "radicalized terrorists" start shooting at them.
"Or are they expected just to talk to the jihadists about their feelings or the root causes of the conflict?" he asked.
'Robust rules of engagement'
Sajjan assured the House that, wherever troops are deployed, they will have "robust rules of engagement," as well as the right equipment and training.
But he said that every nation looking at global conflicts is also trying to get to the core of the problems.
"We cannot just be sending our soldier's into harm's way all the time," Sajjan said. "We need to start preventing conflict."
Tory associate defence critic Pierre Paul-Hus, who like Sajjan is a veteran, was more aggressive in his questioning.
"Will the government send our soldiers to this mission like lambs to the slaughter?"
Paul-Hus accused Liberals of wanting to send troops to Mali, which is considered perhaps the most dangerous of the possible destinations. Extremists in the West African nation have killed more than 100 peacekeepers in the last four years, including 32 this year.
Paul-Hus charged that Liberals will want soldiers to "act like social workers" in a place where terrorists have made it clear they will target blue helmets.
"Will the government send our soldiers to this mission like lambs to the slaughter?" he asked.
"I actually resent that question," Sajjan fired back.
Sajjan heading to dangerous Mali
The defence minister reiterated that troops will be ready to defend themselves if need be, wherever they are deployed. But smart power, he said, is about trying to reduce conflict — something Canadian troops know how to do.
"While they're ready for the threat, they can also help reduce the threat as well," he said.
Sajjan is headed for a fact-finding mission in Mali and Senegal next week to learn more about the security challenges on the ground. Sajjan's office told The Canadian Press that the visit should not be interpreted as a sign Canada is going to join the Mali mission.
However, International Development Minister Marie-Claude Bibeau also visited Mali in September, as did a reconnaissance team of officials from National Defence, Global Affairs and the RCMP.
Details to be revealed in 'coming weeks': PM
Interim Tory Leader Rona Ambrose has accused Trudeau of using Canadian soldiers as "pawns" in his pursuit of a UN Security Council seat. Ambrose maintains there is "no peace to keep" in Africa.
Liberals have committed up to 600 soldiers, 150 police officers and $450 million for a peace operation in Africa. Trudeau said Thursday that Liberals will reveal their decision about a destination "in the coming weeks."
With files from The Canadian Press
http://www.huffingtonpost.ca/2016/11/04/harjit-sajjan-un-peacekeeping-mission-africa_n_12801448.html
Canadian troops headed to Africa, top general says.
July 14, 2016
The federal government makes plans for a peacekeeping mission after Canada pledged to supply 450 soldiers to assist with a NATO mission in Latvia.
OTTAWA—Canadian troops will soon be headed to Africa, Canada's top general says, as the federal government makes plans for a new peacekeeping mission.
Gen. Jonathan Vance, chief of defence staff, mentioned the coming deployment as he paid tribute to the work of the Canadian Army during a change of command ceremony Thursday.
"The army's been preparing for the future. We've seen a shift towards foundational training, preparing for a wide range of future tasks," Vance told dignitaries and military officers gathered, in the rain, on Parliament Hill.
"Internationally, the army is at the forefront, managing conflicts around the world, contributing to operations in Iraq, building capacity with allies and partners in Poland, Ukraine, and very soon in Africa," Vance said.
The top general offered no other details, but his comments come just a day after Defence Minister Harjit Sajjan confirmed that the Liberal government is committed to deploying soldiers on a peacekeeping mission, likely to Africa.
Combating violent extremism, already the focus of Canada's mission in Iraq, could be the motivation for a new mission in Africa, notably Mali which has emerged as a likely destination for Canadian soldiers.
That's where a United Nations stabilization mission has been working with local forces in a deadly fight to contain Islamic extremists.
Thursday's ceremony saw command of the Canadian Army transferred to Lt.-Gen. Paul Wynnyk from Lt.-Gen. Marquis Hainse.
In his address, Vance told Wynnyk — the two shared a room at military college — that his mission was to keep the army, "agile, ready to be employed across the full spectrum of operations."
Speaking to reporters after the ceremony, Wynnyk said that the army has enough personnel for the missions at hand, but just where soldiers may go next is up to politicians to decide.
"It's hard to say where it's most likely. That's what the government of Canada will determine," he said.
"Having served on a number of peacekeeping missions myself, both in Africa and Asia, our outstanding troops can undertake missions like that anywhere," said Wynnyk, a 35-year veteran of the military.
"If and when the government decides they would like us to deploy somewhere, the army stands ready to prepare troops for that particular theatre," he said.
Retired military officer and defence analyst George Petrolekas has told the Star that the military could sustain a new deployment of between 600 and 1,000 soldiers, in addition to the commitments it's fulfilling now.
Vance said that additional details would be coming soon about the just-announced deployment to Latvia, where Canada has pledged to supply 450 soldiers to assist with a NATO mission to bolster its presence in Eastern Europe.
https://www.thestar.com/news/canada/2016/07/14/canadian-troops-headed-to-africa-top-general-says.html

---
Permissions in this forum:
You
cannot
reply to topics in this forum