Afghan vet deep in debt after two-year fight against charges that were later abandoned: 'I feel numb'
Graeme Hamilton | October 23, 2016 5:23 PM ET
More from Graeme Hamilton | @grayhamilton
Collin Fitzgerald is a highly decorated veteran of the Afghan war, hailed for risking his life to save others on the battlefield, but for the last two years he has been living under a cloud as an accused criminal.
He always insisted he was innocent, targeted unfairly by the provincial police in his eastern Ontario hometown, and last month he finally walked out of court with a clean slate.
All charges against him have been withdrawn, but in an interview last week it was clear Fitzgerald is not ready to put the ordeal behind him.
"I feel numb to the whole situation, because there isn't any justice in any of it," he said.
Fitzgerald had been facing trial related to three separate incidents. Charges that he had breached court orders to stay away from his ex-wife's house were dropped last May. A witness had reported seeing Fitzgerald outside the home when it burned in 2014, but Fitzgerald had countered with alibis and phone records showing he was nowhere near the house.
In July, Fitzgerald agreed to pay $1,000 into the province's Direct Accountability Program, a diversion program, and the Crown withdrew a charge of motor vehicle theft. Fitzgerald said the charge was unfounded but he did not want the expense of going to trial.
And on Sept. 26, charges of intimidating and criminally harassing a police officer were withdrawn after Fitzgerald agreed to sign a peace bond promising to stay away from the officer in question. Fitzgerald denies having harassed the officer and said he signed the bond to avoid trial.
Now the veteran wants answers on how the justice system could be allowed to consume his life and leave him deep in debt, only to acknowledge in the end that the cases did not merit going to trial.
"I'm going to do everything I can do to press the government to get a judicial inquiry," he said, pointing a finger at the Ontario Provincial Police and the Crown attorney's office.
"They need to be investigated, because I am not the only one," he said. "There are many people in this area who have been railroaded."
Randy Hillier, a Conservative MPP representing the eastern Ontario riding of Lanark-Frontenac-Lennox and Addington, raised Fitzgerald's case in the legislature this month as he questioned the government on why the Crown ends up dropping 43 per cent of criminal charges filed.
"This 43 per cent of stayed and withdrawn cases are not just numbers. They're actual people," Hillier said.
"One of those people is a highly decorated Afghan war vet who endured a multi-year criminal prosecution that saw him barred from his hometown. He lost custody of his child. All the charges were withdrawn but he still has a $200,000 debt. What is the remedy of this government? Nothing. Zero."
In a statement, Brendan Crawley, a spokesman for the Ontario Attorney General's office, said the Crown abandoned its prosecution of Fitzgerald as a result of "an ongoing obligation" in all cases to assess whether there is a reasonable prospect of conviction and whether it is in the public interest to proceed.
"With respect to all of these matters," he said, referring to the Fitzgerald cases, "while the Crown determined that there still existed a reasonable prospect of conviction in the matters, the Crown determined that it was not in the public interest to proceed with the prosecutions."
Fitzgerald, 37, was already suffering symptoms of post-traumatic stress disorder from his nine-month tour with Princess Patricia's Canadian Light Infantry in Afghanistan when he was awarded the Medal of Military Valour in 2006. Described as a "Canadian hero" by Gen. Rick Hillier, then chief of defence staff, Fitzgerald soon saw his life spiral downward.
The low point came on March 9, 2013. Medically discharged from the military for severe PTSD the previous year, his marriage disintegrating, Fitzgerald triggered a police standoff that he hoped would end with them shooting him. They shot him, but with a beanbag gun. He was arrested, pleaded guilty to several offences and spent 16 months in mental-health institutions and under house arrest.
He received treatment for his PTSD and says he was trying to turn his life around when the more recent charges were levelled. They were the result, he is convinced, of the OPP wanting to run him out of town because they considered him dangerous.
I am not the only one. There are many people in this area who have been railroaded
Now he focuses much of his energy on speaking engagements, working with Kerri Tadeu, a sexual-assault survivor, to educate law enforcement and the general public about the long-term consequences of trauma.
"Collin is not crazy. He is not psychotic. He is hurting," Tadeu said. "He is hurting from his war trauma. He is hurting from a series of unfortunate events. Wherever we go, he tells people that. There are so many people out there suffering."
ghamilton@postmedia.com
Twitter.com/grayhamilton
http://news.nationalpost.com/news/canada/afghan-vet-deep-in-debt-after-two-year-fight-against-charges-that-were-later-abandoned-i-feel-numb

Trooper

CSAT Member




Number of posts

: 5516


Location

: New Brunswick


Registration date :

2013-02-18



Colin, I hope now that the cops and the goofy judicial system are off your back you can find some peace of mind.

Bruce72

CSAT Member




Number of posts

: 651


Location

: Newfoundland


Registration date :

2014-03-13



One of Canada's highest-decorated former soldiers from the Afghan war is facing a mountain of debt after fighting to clear his name over three criminal charges withdrawn by the Crown earlier this year.

Retired master corporal Collin Fitzgerald has $160,000 in legal bills related to a two-year court odyssey and an additional $40,000 in family court costs from a custody battle involving his daughter.

"It's wrong on so many levels. It's morally wrong, it's just... it's absolutely absurd what they've done," Fitzgerald told CBC News. "Nobody should be treated this way."


An Ontario MPP says the former soldier, who won the Medal of Military Valour for aiding wounded comrades in a burning vehicle under enemy fire in 2006, is among potentially thousands of people in the province who have been driven to the edge of bankruptcy defending themselves against unfounded prosecutions.

"There needs to be some way to right the wrong of the state," said Randy Hillier, current provincial Progressive Conservative justice critic. He's demanding an overhaul of the relationship between the police and Crown, as well as some form of compensation for the unjustly accused.

"I think this has just been a travesty and abusive process, for an individual to face financial ruin and to have to go to that degree and that length of time," Hillier said in reference to the Fitzgerald case.

Fitzgerald, who suffers from PTSD, has had a tumultuous personal life since leaving the military, including stints in hospital.

Originally from Morrisburg, Ont., Fitzgerald faced three separate sets of charges, including motor vehicle theft, harassment and intimidation of a police officer and breaching bail conditions, in relation to alleged incidents in 2012 and 2014.

Each count was dropped by the Crown earlier this year in separate court proceedings.

The last charge — intimidation of an Ontario Provincial Police officer — was withdrawn in late September, on the condition Fitzgerald agreed to a peace bond.

The charges, in each case, were laid at the behest of the OPP, which — according to Fitzgerald — wanted to run him out of town because they considered him a threat to public safety.

In 2013, he was involved in a five-hour standoff, where he had hoped police would shoot and kill him — an incident that took place at the beginning of a difficult divorce from his spouse. Fitzgerald sought treatment and was in the process of turning his life around when he claims police started harassing him and eventually laid the three sets of charges.

Throughout more than two years of court proceedings, the former soldier, who maintained his innocence, was repeatedly offered plea deals by prosecutors.

He says he refused each attempt and accused the Crown of turning a blind eye to information that exonerated him.

According to the court record, prosecutors discovered that the former soldier's whereabouts did not match the OPP's allegations and witnesses. Despite the holes in the case, the Crown stuck with two charges of breaching bail conditions until last spring, when they were withdrawn.

Hillier says a lot of people in Fitzgerald's position take a deal because they don't have the stomach or the pocketbook for an extended court fight.

Fitzgerald says there were times he wanted to give up, but continued to fight with the help of friends and supporters.

"It's not fair," Fitzgerald told CBC News. "Why should I be in financial disarray for the next 30 years trying to pay back what I owe, that I had to borrow to get my freedom? Why is that fallen on my shoulders?"

High number of cases don't reach trial

Ontario Court of Justice statistics show there were 205,200 cases resolved in 2015.

Of those, 82,400 were wrapped up by way of the charges being stayed or withdrawn before trial and another 9,900 were dropped at the trial stage, according to a published report in the Ottawa Citizen last summer.

Statistics Canada figures from 2013-14 show Ontario outstripped all other provinces with 43.8 per cent of criminal proceedings being pulled before they were heard.

Just last month, the Ontario Crown Attorneys Association estimated there are currently about 6,000 criminal cases that could see charges stayed or withdrawn. It blames a shortage of judges, prosecutors and court space.

Hillier said much of the attention has been focused on people stuck in the system awaiting trial, but little is being said about those who've already been through the wringer.

"At the present time, the only remedy or avenue is to go back into the very system — to try to seek a remedy in the courts, compensation through the court," he said. People who feel they've been wronged by the criminal justice system can seek remedy through lawsuits.

Fitzgerald's case warrants a specific review of what happened and what went wrong with the prosecution, Hillier said.

Both the OPP and the Ontario Attorney General's office declined requests by CBC News for interviews, but a spokesman for the Attorney General's department stood by the prosecutor's decision to maintain the charges.

Part of the problem, Hillier believes, involves the fact that police in Ontario, unlike some other provinces, have more freedom to lay charges without the supervision of the Crown.

Wounded Warriors Canada, which helps organize services for vet with PTSD, has been trying to help Fitzgerald with housing options, getting him a place where he can visit with his daughter, but help with legal bills is outside the organization's mandate.

Executive director Scott Maxwell said they've had pleas from other veterans who have faced legal trouble, but he said Fitzgerald's is a unique case that warrants attention.  

"The time to get engaged — through the public and anybody who wants to help — is right now," he said.

http://www.cbc.ca/beta/news/politics/soldier-legal-bills-1.3905688


This is a prime example of abuse of power and an attempt by the system at exercising it's perceived position of authority.  

No veteran, let alone a decorated war veteran should ever be treated with such disdain.  Over priced, over paid and arrogant cops and politicians are a scourge on the veteran community as well as society as a whole.

Bruce72

CSAT Member




Number of posts

: 651


Location

: Newfoundland


Registration date :

2014-03-13



'We answer those calls': VETS Canada gives Christmas aid to struggling war heroStruggling with physical, mental and financial injuries, a Canadian war veteran finds help with VETS Canada
By Susan Bradley, CBC News Posted: Dec 26, 2016 8:00 AM AT Last Updated: Dec 26, 2016 8:00 AM AT
Collin Fitzgerald , a highly decorated Canadian war veteran, finally got some help from Nova Scotia-based VETS Canada just hours before Christmas.
It was getting close to Christmas and a desperate Canadian veteran was about to pawn the last of his belongings in order to provide some sort of holiday for his young daughter.
Broke, Collin Fitzgerald made a call Dec. 23 to a Nova Scotia charity called VETS Canada.
"I was going into a huge depression. I didn't know what I was going to do. I was almost going to literally take stuff that I can't get rid of to a pawn shop so I could do something for my daughter," he said.
A highly decorated Canadian Afghan war veteran, Fitzgerald was honoured for helping wounded comrades in a burning vehicle under enemy fire. But for the past two years, the Ontario man was enmeshed in legal battles, some connected to his post traumatic stress disorder, and also has fought to clear his name of criminal charges he says he never committed. Earlier this fall, he won and the Crown withdrew all the charges against him.
Help came
His legal battles have left him $200,000 in debt.
When he made his last-ditch effort for help, VETS Canada's founder Jim Lowther answered the phone.
Master Cpl. Collin Fitzgerald, middle, is honoured with the Military Valour decoration for gallantry and devotion to duty in Afghanistan in the House of Commons in Ottawa on Feb 19, 2007.
By 10 a.m. Christmas Eve day, Fitzgerald was able to tap into $750 worth of gift, food and gas cards in order to put food on the table, pick up his eight-year-old daughter who lives about two hours away from him and provide some presents for her.
"We're just doing what we do every day. We answer the calls at 11:00 on Friday night," Lowther said.
"I am happy, I am glad they called us. He's had a rough time. It is a good feeling that someone is going to have a happy Christmas."
'I can't thank them enough'
Fitzgerald said he felt tremendous relief.
"In less than 24 hours, he was able to get money into my account. VETS Canada has been amazing. I can't thank them enough."
Collin Fitzgerald served eight months in Afghanistan and has felt let down by some of the post-traumatic stress disorder care he's received.
The grassroots organization, based in Halifax, began in 2010-2011 when Lowther, a military veteran himself, realized there were men and women like him slipping through the cracks, coping with mental and physical injuries, losing their families and ending up suicidal and on the street.
He said December has been a busy month for the charity that now has a network of 135,000, most of whom are ex-military or RCMP.
"It's been a busy month. We're going to be over 100 veterans that we've assisted this month alone."
'I don't like begging people to help'
On Christmas Eve day, Fitzgerald was making a list of things to purchase.
"Presents for my daughter, books and games so we can interact with each other. I plan on getting some food and making her some Christmas supper," he said, adding "I don't like begging people to help."
It stung when his requests for help from other agencies who assist military veterans were met with "a lot of red tape and bureaucracy" and turned down, he said.
"It upsets me. It enrages me," Fitzgerald said.
"Knowing when [people] are reaching out, they are not getting the help that they need."
Extended assistance
VETS Canada will also help him with the obstacles preventing him from getting back on his feet, both in health and financial issues.
"I tried to assure him that things will eventually work out. We help them [veterans] move forward so they can get back on their feet," Lowther said.
He said in the new year, he will be in touch with other partners who can advise Fitzgerald, and a conference call will be set up.
http://www.cbc.ca/news/canada/nova-scotia/collin-fitzgerald-military-health-financial-vets-canada-1.3912578

Trooper

CSAT Member




Number of posts

: 5516


Location

: New Brunswick


Registration date :

2013-02-18



'Pain is the same' for all combat veterans: Former soldier
By
Elliot Ferguson
Sunday, January 8, 2017 5:07:44 EST PM
Retired master corporal Collin Fitzgerald, second from right in this 2006 photo, is hosting a series of screenings this week of a film he hopes will help others battling mental health injuries.
KINGSTON - A former soldier battling mental health injuries sustained during an overseas deployment is hosting a series of screenings this week of a film he hopes will help others with similar injuries.
Retired master corporal Collin Fitzgerald, who was deployed to Afghanistan for nine months in 2006, is hosting screenings this week of the film Almost Sunrise at the Royal Military College of Canada.
The movie follows the struggle of two United States Army veterans following their deployment to Iraq. The movie documents the veterans' almost 4,400-kilometre walk across the U.S. that was their way of coping with their pain.
While Almost Sunrise follows the experiences of a pair of U.S. soldiers, Fitzgerald said many combat veterans, regardless of nationality, share the same human emotions.
"The only difference was the uniforms were different, the experiences are all different but the pain is still the same," Fitzgerald said.
"There was a huge growth in my mindset from watching the film, having known that it wasn't just my platoon or my company or my battalion. The moral injuries that transpire in those experiences don't discriminate against Canadian or American or any of the other nations involved during that conflict."
During his deployment to southern Afghanistan in 2006 with Princess Patricia's Canadian Light Infantry, Fitzgerald was a section leader responsible for directing other soldiers.
"I had about eight or nine guys under my command while I was over there and it was almost a daily occurrence where we were exchanging gunfire with opposing forces," he said.
Following his deployment, Fitzgerald said he struggled with the mental injuries that affected him after he returned to Canada.
"Apart from the physical wounds that soldiers take on when induced to combat, there's also a major moral dillema that transpires. For myself it did. In serving my country, I disregarded my moral compass and it got shot out of whack," he said.
"It took a long time for me, with a lot of help from professionals and friends alike, to help get me back to a place where I was able to exist within the realms of society."
Fitzgerald said he hopes the film, which he described as having an emotional impact on him, helps other veterans the same way it helped him. He also said he hopes those who work with veterans, such as doctors and therapists, get a better understanding of their patients through the film.
A private screening of the film is set for Currie Hall at RMC on Jan. 12 with military members and civilians invited to public screenings at 7 p.m. on Jan 13. and 14.
A series of Power Breath Workshops is also planned for Jan. 19 to Jan. 23. The workshops are designed to teach people techniques for cope with their experiences and the emotions they create.
http://www.thewhig.com/2017/01/08/pain-is-the-same-for-all-combat-veterans-former-soldier

Trooper

CSAT Member




Number of posts

: 5516


Location

: New Brunswick


Registration date :

2013-02-18



Veterans help troubled ex-soldier with $200,000 in legal billsWounded Warriors Canada plans national fundraising drive, saying decorated soldier has 'been through enough'
By Murray Brewster, CBC News Posted: Jan 15, 2017 5:00 AM ET Last Updated: Jan 15, 2017 5:00 AM ET
Collin Fitzgerald in Afghanistan in 2006.
A public fundraising campaign is underway to help one of Canada's highest-decorated former soldiers from the Afghan war clear a mountain of debt from a legal battle to clear his name.
Retired master corporal Collin Fitzgerald faced three criminal charges over three years, all of which were withdrawn by the Crown under various conditions.
Throughout the ordeal, he maintained his innocence, refused to accept plea deals and ended the fight with $160,000 in legal costs and an additional $40,000 in related family court costs involving a custody battle over his daughter.
He borrowed heavily, including from friends and family.
Public response
Shortly after CBC News profiled Fitzgerald last month, another veteran in Comox, B.C., started a GoFundMe page for him, which over the last three weeks raised approximately $12,000.
There have been other smaller, separate offers of assistance.
Wounded Warriors Canada, which offers programs to support ill and injured soldiers, has stepped in to help coordinate a national fundraising drive by creating a central page.
All of the donations are being folded into one campaign, said Scott Maxwell, the group's executive director.
Veteran says he was harassed by Ontario police
"It's clear Collin has been through enough in his service to Canada," he said. "He was having a hard time and needed as much support as he could get — generally."
The group felt, "notwithstanding what happened, here is an ill and injured veteran who needs support in the worst way to make a successful transition to civilian life," Maxwell added. "Every dollar raised will go to Collin Fitzgerald."
Maxwell said donations will be shut down once the ex-soldier's creditors are paid.
Fitzgerald, who suffers from PTSD, was awarded the Star of Military Valour for actions in Kandahar, Afghanistan, in 2006.
He claimed he was harassed by Ontario Provincial Police and considered a threat to public safety, after a 2013 standoff where he hoped police would shoot and kill him.
He got help and said he was putting his life back together when the alleged harassment took place.
Provincial responsibility
Wounded Warriors has also provided funding that will cover housing for Fitzgerald, at least until the spring, where he can have custodial visits with his daughter. Since his court case, he has been living with the family that was designated as his surety.
Master Cpl. Collin Fitzgerald, middle, now retired, was honoured with the Military Valour decoration for gallantry and devotion to duty in Afghanistan in the House of Commons in 2007.
VETS Canada, another support group that looks after soldiers in crisis, came through just before Christmas with additional support.
Ontario Progressive Conservative MPP Randy Hillier told CBC News last month that Fitzgerald was not alone in his plight and that others, including the wrongly accused, have been left with massive legal bills just to clear their names.
He said the Ontario government should take responsibility for those costs and examine why the province leads the country in the number of court cases where criminal charges are withdrawn.
The latest statistics, released in 2015, show there were 205,200 cases resolved and of those 82,400 saw the charges withdrawn or stayed before trial. An additional 9,900 were dropped at the trial stage.
http://www.cbc.ca/news/politics/soldier-legal-bills-1.3934547

Trooper

CSAT Member




Number of posts

: 5516


Location

: New Brunswick


Registration date :

2013-02-18



Wrongfully accused Afghan veteran visits Port Hope calling for justice reform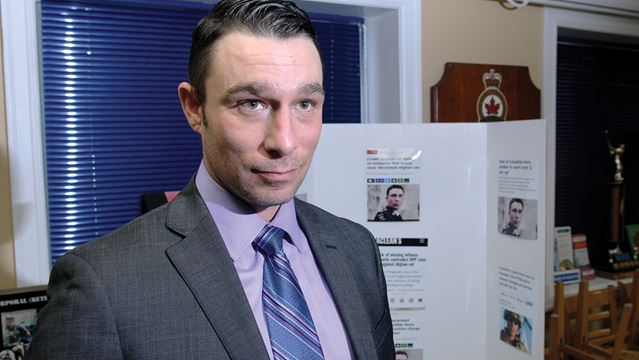 PORT HOPE -- Veteran Master Cpl. Collin Fitzgerald, 37, visited Port Hope's legion to dicuss juidicial reform and his troubled past.
By
Todd McEwen
Fri, Feb 24, 2017
PORT HOPE — Retired Canadian veteran Master Cpl. Collin Fitzgerald's life story thus far is littered with enough tragic and unbelievable events that it reads like it's ripped from the pages of a novel.
Fitzgerald, 37, appeared at the Port Hope Legion on Feb. 7 where he was met with a warm reception from Legion president Wayne Byers and fellow veterans to speak about his turbulent past, his ongoing struggles with post traumatic stress disorder (PTSD) and the need for an overhaul of the justice system.
"He's here for a good cause," President Byers said, adding PTSD and mental health disorders are a "bad thing" to deal with.
"There's not really a sign of it being there until it happens."
Born in Morrisburg, Ont., Fitzgerald joined the military reserves when he was in high school, took to military life and quickly become one of Canada's most decorated soldiers.
Now, he's known as a wrongfully accused veteran petitioning for judicial reform across the province after he led an uphill battle against the justice system during more than two years of prosecution on multiple criminal charges.
"This is to effect change for Canadians," he said.
He was accused of burning down his matrimonial home, despite phone records, video surveillance and witness testimony supporting his alibi.
The Crown dropped the final charge against Fitzgerald in 2016.
A petition at www.supportcollin.ca is calling for Ontario to develop and fund a program to assist Ontarians who have been wrongfully accused; to study Ontario's unacceptably high rate of stayed and withdrawn charges, and to enact reforms to rectify the situation.
He returned from Afghanistan in 2006 — widely regarded as the bloodiest year of the war. One year after landing on Canadian soil, he suffered a bar beating from three men. Fitzgerald treated his PTSD symptoms with alcohol and cocaine.
"I didn't have time to process what was going on," he said.
He had a series of encounters with law enforcement and began his battle with the justice system after attempting suicide by police in 2013.
"They shot me six times," he said, pointing to the various scars on his body — right shoulder, breast plate — where he was hit by "bean bag" bullets.
"They should've killed him," registered psychiatric nurse and personal support worker Kerri Tadeu, who joined Fitzgerald on the speaking engagement, explained.
"Collin should be dead."
The duo embarked on an eastern-Ontario speaking tour, starting in Kingston, to share the petition for judicial reforms, but to also spread a message of hope for others suffering in silence.
"You have to put the work in," Tadeu said. "You have to learn to love your chains."
http://www.northumberlandnews.com/news-story/7146120-wrongfully-accused-afghan-veteran-visits-port-hope-calling-for-justice-reform/

Trooper

CSAT Member




Number of posts

: 5516


Location

: New Brunswick


Registration date :

2013-02-18



Good for you Collin. Stick it to the man. The treatment you received from the judicial system is a prime example of a system run amok. All to often police and judges abuse their powers. Now you can publicly shame them and expose the corruption and incompetence that is so pervasive in Canadian law enforcement.

I'm in your corner, and I think about your struggle on a daily basis. I know in the end you'll come out on top. You are a true warrior and the hapless morons who have made your life difficult will get their just desserts.

Bruce72

CSAT Member




Number of posts

: 651


Location

: Newfoundland


Registration date :

2014-03-13



Heroes make it to the end of the road
By
Pete Fisher
,
Northumberland TodayWednesday, April 26, 2017
Afghanistan veteran Collin Fitzgerald hugs fellow vet Nick Kerr after completing their journey on April 21 in Trenton. They were joined by Kerri Tadeau in the effort that took most of April, spending 11.5 hours a day cleaning up interchanges along the Highway of Heroes, from Keele Street in Toronto to Trenton.TRENTON -
For a dedicated trio, it's about SerViCe to their country, the fallen and their families.
For three weeks, Kerri Tadeu, Master Cpl. (Retired) Collin Fitzgerald and Cpl. Nick Kerr have been serving their country the best way they can.
Since April 1, the Kingston-based trio have been getting up at 4 a.m. and cleaning all the on- and off-ramps along both sides of the 172-km. stretch of the Highway of Heroes from Keele Street in Toronto to Trenton.
The capitalized letters in SerViCe stand for Soldier, Veteran and Civilian.
Tadeu is the co-founder of SerViCe, and serves as the civilian. Fitzgerald serves as the veteran, and Kerr as the soldier.
Fitzgerald was one of the first recipients of the Medal of Military Valour for his actions on May 24, 2006, when he repeatedly exposed himself under enemy fire by entering a burning military vehicle that had been damaged from an improvised explosive device. He successfully drove the vehicle off the roadway, allowing the others in the convoy to escape the ambush.
Tadeu was good friends with Major Michelle Knight-Mendes of Grafton, who died in Afghanistan.
"When Major Michelle Knight-Mendes came home from Afghanistan in 2009, I received an education about the service and sacrifice of our fallen," she said last week during a break from her work.
"When I knew better, I started doing better."
For the past eight years, Tadeu has been remembering her friend and creating a legacy in her honour.
Last November, the three led an initiative to adopt a 1.18-km. stretch of the Highway of Heroes near Knight-Mendes's home town. But they weren't prepared for the show of support, with numerous friends and family members of Knight-Mendes (as well as strangers) turning out to help. They collected 38 bags of garbage from the event.
"In remembering our fallen, part of our initiative with SerViCe, we never want our fallen names to dilute with the passage of time," Tadeu said.
"We then had the idea to adopt the entire 172 km. of the Highway of Heroes and have the 158 fallen remembered with individual signs, as well as the four civilians that were killed in Afghanistan with four big signs."
Pursuing the idea through the province's Adopt-A-Highway program, they had extensive meetings with organizations including the Ministry of Transportation before the papers were signed making the adoption official.
But part of the agreement was no one was to know because of safety concerns, in case others wished to help.
Between May 6 (a day close to National Day of Honour) and Canada Day, the Ministry of Transportation will be installing four big signs representing the four civilians killed in the Afghanistan war and 158 signs to honour the 158 soldiers lost in the war — 79 signs on the west side of the 401, 79 on the east.
For 21 days Tadeu, Fitzgerald and Kerr hit the road each day to get it ready, spending 11.5 hours cleaning every on- and off-ramp the MTO has designated as safe on both sides of the Highway of Heroes before returning to Kingston.
But the trio had no idea what was in store for them.
"We had one experience cleaning a portion of the Highway of Heroes, which was the area at Grafton. But we were completely unprepared for the garbage that we found along the Highway of Heroes," Tadeu said.
The trio collected a total of 389 bags of garbage, four large garbage bags of empty alcohol bottles, 44 needles, vials appearing to be heroin, numerous poppies and Canadian flags, close to $235 in cash, bags of jewellery, seven license plates, at least 700 bottles of urine, three driver's licenses, four health cards and one 9-mm handgun which was turned over to Toronto Police.
Among the animals they encountered — a snake, mice, a Canadian goose that was nesting, a coyote, a beaver and a marmot.
Because of the number of alcohol containers found along Canada's busiest highway, Tadeu said they've been in contact with MADD Canada to bring awareness of the alcohol consumption.
Finding hundreds of urine containers also concerns Tadeu, who is a psychiatric nurse.
"I've been looking at these containers and thinking of how dehydrated the people that are dropping these containers must be, because a lot of the urine containers are a very dark amber," she commented.
"People that are dumping the urine containers are medically unwell. They are dehydrated, foggy brain, confused and tired. If I were to find a patient peeing that colour of urine, we would be pumping them full of IV fluids running a gamut of tests."
The group is hoping to reach out to a college or university to study the urine and test it for drugs, or alcohol.
Tadeu said it's all about effecting change in how Canadians view a unique piece of land, "and how it should be respected and restored, and be clean at all times for the next soldier that falls."
The clean-up has been exhausting. But all three say the Miller Maintenance Group and their, "heart, soul, calibre of character, and strength in uniform" has been amazing, with a number of them sharing stories of standing by the side of the highway when a repatriation passes.
"It's not about lightening their load," Tadeu said.
"It's rooted in what this piece of land represents, and who traveled this land for their freedom as well as mine."
Police, Ministry of Transportation staff and other emergency-service workers who have heard about the trio have also stopped to give a much-needed morale boost.
Aching muscles, scratches on their bodies — everything hurts, now that their journey is over.
"Every time there has been an aspect of physical pain, I put my mind to how it's nothing compared to the men and women in uniform fighting wars," Tadeu said.
"It's nothing compared to what they've gone through. It's accepting the pain and getting inspired by the people we cross paths with."
Kerr said the journey of cleaning up the highway gave him the chance to bond and share stories with Fitzgerald — his brother-in-arms as well as his supervisor while they served in Afghanistan.
"It brings back memories, especially friends who have taken the final route to their final resting place in other areas of Canada," he said.
Tadeu has been helping Fitzgerald "to help himself" during his struggles since coming home from Afghanistan, including severe PTSD.
"There is a piece of him that is still left over in Afghanistan, and he has never really found his rhythm since coming home," she said.
"Watching him move from pain to purpose, watching him be out here in the rain and wind, being physically exhausted and continuing to push hard to complete our mission," she said — having read all his military records, she said this is who he was as a soldier.
He's serving his country differently now, she added, while creating an amazing legacy in honour in Major Michelle Knight Mendes.
Kerr was working under Fitzgerald in Afghanistan, and the two reconnected recently.
Before embarking on their 21-day journey, Fitzgerald said he never expected the amount of garbage they would be cleaning from the highway.
"What this does is it gives me something to appreciate, to give something back to the communities, to give back to Canada," he said.
"It's a good feeling to take the before shots and after shots of all the debris.
"As Canadians, we need to step up to the plate and try to stop what is happening here. This is a memorial highway to our fallen who left this country to fight for Canadians."
Fitzgerald accepts the fact that, if the three people will be the only ones allowed to clean the highway, "so be it.
"I just want to do my part. And at the end of the day, it gives me a good feeling and that's something I haven't experienced in a very, very long time."
With only three people, sometimes spread apart cleaning an area, Fitzgerald found plenty of time to think.
"Mixed emotions, thoughts are running," he said.
"I do think about all the occurrences that transpired while we were serving in Afghanistan.
"I think about all the people I'm doing this for. All the people who have lost family members. At the end of the day, it's enabled me to get a good grasp on why I'm here, the country that I live in, where you can either do good or do bad on any level."
On April 21, shortly after 7 p.m., the last piece of garbage was picked up at the on-ramp to the Highway of Heroes at Trenton.
Tears were shed, and hugs were given. The discrepancies among the three over the past three weeks were forgotten, and all embraced in an emotional hug below the sign where so many of their friends' final journey home started
"Personally, I walk away from doing this every day hurting, sore, but also with an understanding the effort we put forth throughout it that nothing but good can come of it," Fitzgerald said.
http://www.northumberlandtoday.com/2017/04/26/heroes-make-it-to-the-end-of-the-road

Trooper

CSAT Member




Number of posts

: 5516


Location

: New Brunswick


Registration date :

2013-02-18



I commend them for what they did. I know that it would have been a great healing and bonding time for these Vets. With a bit of social media, fb, etc, this would be an awesome yearly cleanup event, that would get alot of Vets out to help. VVV...

johnny211

CSAT Member




Number of posts

: 522


Location

: Down East


Registration date :

2014-12-26



150 veterans for Canada's 150
Kerri Tadeu and her brother, master corporal (retired) Collin Fitzgerald, travel across the country to thank veterans for their years of service

Beth Penney Beth.Penney@tc.tc
June 22, 2017
Presenting thank you cards to Princess Patricia Light Infantry veterans are (from left) former governor general Adrienne Clarkson, Emma Tadeu, Kerri Tadeu, Peyton Fitzgerald and master corporal (retired) Collin Fitzgerald.
Canadians are celebrating Canada's 150th birthday in a variety of ways this year, and Kerri Tadeu and her brother, master corporal (retired) Collin Fitzgerald, discovered their own memorable way to celebrate it.
The two have started an annual initiative to visit 150 veterans living in nursing homes across Canada to thank them for their years of service.
The journey was inspired by Fitzgerald as a way to thank the Canadian Armed Forces (CAF) for his 15 years of service.
Fitzgerald is a recipient of the Medal of Military Valour, which is awarded to a member of the Canadian Forces who has committed an act of valour or devotion in the presence of the enemy.
The pair began their coast-to-coast tour of Canada on May 28 in Kelowna, B.C., and moved east. They brought their children, Peyton Fitzgerald, and Emma Tadeu, to three of the 10 provinces they visited.
"We met incredible veterans from the Second World War era," said Tadeu. "The average age was 95 years old, and the oldest was 105."
Fitzgerald and Tadeu thanked every veteran with a presentation and a special thank you card.
"We would tell the veterans, Emma, in Grade 3, is standing on guard for you now," said Tadeu. "Because you spent many years standing on guard for her."
For Fitzgerald, being able to pay his respects to the CAF was a huge part of his recovery process.
"This wasn't my brother's story all along," said Tadeu. "He has been struggling with PTSD for many years now."
The fog has lifted, and Fitzgerald is ready to start serving his country, this time as a veteran.
"When soldiers are invited to go home and rest because of mental-health issues, they lose focus and lack having a mission," said Tadeu. "By us creating an opportunity for my brother to serve Canada as a veteran, it helps his mental health.
"My brother will serve Canada until he takes his last breath.
The pair hope to inspire other wounded veterans to think of ways they can still serve their country.
"Not everyone will be able to travel across Canada like us," said Tadeu. "But think, if we can travel across Canada, you can have lunch with a veteran in a local nursing home.
"Our objective is to inspire and motivate fellow Canadians to shift the mindset away from placing sole responsibility on Veterans Affairs Canada to combat the epidemic of veteran suicide," said Tadeu. "Instead, start asking yourself, 'What can I do to serve veterans in the community and country?'"
Eastern arrival
The last stop on their journey was Newfoundland.
"Travelling with children always makes things a little more hectic," said Tadeu.
Somewhere between the airport, car rental shop and hotel, Tadeu lost her wallet. The wallet contained $1,200 cash, diamond earrings, a passport and IDs.
"My whole life was in that wallet," said Tadeu. "I didn't have much hope in getting it back."
The next morning, while on the way out the door to visit the nursing home, Tadeu received a call in her room. It was the receptionist at the front desk informing her that the wallet had been returned.
This act of kindness caused a chain reaction.
"I knew I had to do something memorable with the money that had been returned to me," said Tadeu. "So I started spreading it around the city."
Tadeu gave money to musicians on Duckworth Street after minutes of speaking with them. She also gave money to a shuttle bus driver, who is planning on returning to school in September.
Tadeu is still in contact with the receptionist at the hotel, and hopes to find the person who returned the wallet.
http://www.thetelegram.com/news/local/2017/6/22/150-veterans-for-canadas-150.html

Trooper

CSAT Member




Number of posts

: 5516


Location

: New Brunswick


Registration date :

2013-02-18



---
Permissions in this forum:
You
cannot
reply to topics in this forum