November 9, 2016 4:43 pm
Vandals steal flags from Riverview display honouring Canadian veterans
By Shelley Steeves
Senior Correspondent Global News
Jordan Chiasson
A display of Canadian flags in Riverview, N.B. honouring Canadian veterans was vandalized Tuesday, after a New Brunswick flag and two Canadian flags were ripped from their poles.
"To see them destroyed this way, it really affects me deeply," said Jordan Chiasson.
Chiasson spent two months working to have Riverview chosen as one of the host cities for 128 Flags of Remembrance — a Canada-wide display by Veteran Voices Canada.
Nine cities across the country were chosen to host the 128-flag display in honour of 128,000 fallen soldiers.
"Each flag represents 1,000 Canadian soldiers who died since the Boer War up to modern times. So essentially now we are missing 2,000 Canadian soldiers," Chiasson said.
Chiasson said he reported the theft to the RCMP, but has no idea who might have stolen the flags.
"The first flag that we unveiled is now gone," he said.
People who visited the site Wednesday were shocked by the act of vandalism.
"When he fought for his country, he fought for freedom, he did not fight for vandalism," said Shelley Sandford, whose late step-father is a Canadian veteran.
Chiasson says the blatant disrespect for Canadian veterans is not isolated to Riverview. Three of the nine Flags of Remembrance sites across Canada have been vandalized since the displays were erected in early October.
Veteran Ghislain Lapierre from Moncton Legion Branch 6 said the theft is disheartening for veterans, especially a mere two days before Remembrance Day.
"Anybody that can deface the Canadian flag is a lack of respect," said Lapierre.
New flags donated
But just before noon on Wednesday, Chiasson says his faith in humanity was restored.
Less than 24 hours after the flags went missing, "Kent [Building Supplies] here in Riverview generously donated a New Brunswick flag and two Canadian flags."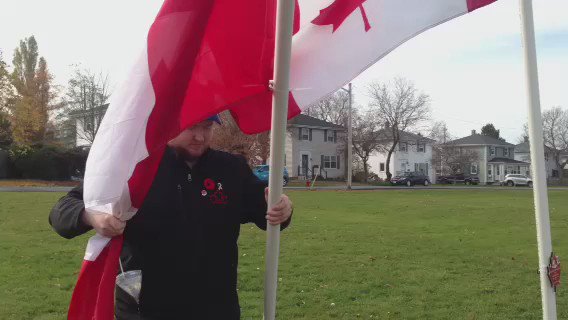 Chiasson said all 128 flags that represent 128,000 fallen soldiers are now flying high in time for Remembrance Day.
"I really want this to look good for our veterans because this all for them and our military personnel, so it is great to have them up and running perfect as it should," Chiasson said.
http://globalnews.ca/news/3057451/vandals-steal-flags-from-riverview-display-honouring-canadian-veterans/
Tribute to veterans on Alberta highway vandalized: 'Have some respect'
October 28, 2016 8:56 pm
By Emily Mertz
Web Producer Global News
128 flags line Highway 11 near Sylvan Lake to pay tribute to fallen soldiers.
With just two weeks until Remembrance Day, a special tribute to our fallen soldiers has been vandalized.
It happened near Sylvan Lake where 128 flags line Highway 11.
The organization Veterans Voices of Canada says a flag was taken off the pole and tossed in the ditch. A hero plaque at the memorial was also taken down and left in the ditch.
"I'm looking at the flags and I'm looking at the hero plaques and I'm wondering why the heck somebody would want to do that," founder Al Cameron said.
"It's a tribute. It's a memorial tribute … The fact that my family members are on that flag line and that somebody can come along and do that to anybody's family – it's pretty brutal as far as I'm concerned."
Cameron said he feels the act is incredibly disrespectful and hopes it won't happen again.
"I'm really hoping that this is going to be a one-time thing. I"m going to put my faith in humanity once more."
"I'm going to hope that whoever did this … that they're going to understand what these flags mean and the effect it has," he said.
Cameron said he's considering enlisting volunteers to guard the memorial site. That step had to be taken in Kingston, Ont. where a similar site was seeing flags stolen on a nightly basis.
"They actually had the community come together to protect those flags and that flag line," Cameron said.
A flag line pays tribute to our fallen soldiers on Highway 11 near Slyvan Lake, Alta.
His message to those responsible?
"If they want to question what we're doing, come to us and question it, but think of those family members that have hero plaques on these sites. It's giving tribute to their families so you're basically disrespecting them and their veteran and their family."
"We're better than this," Cameron added. "We can do better than this."
The flags are put up on the first Saturday in October with an opening ceremony at each tribute site across the country. A closing ceremony is held after Remembrance Day to take them down.
Currently, there are nearly 40 sites in different communities across Canada.
http://globalnews.ca/news/3032664/tribute-to-veterans-on-alberta-highway-vandalized-have-some-respect/


Similar topics
---
Permissions in this forum:
You
cannot
reply to topics in this forum