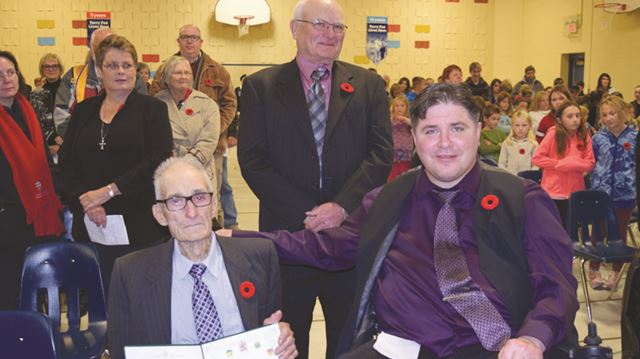 The Douglas Remembrance Day service was held on Nov. 4, which included a special presentation to Second World War veteran Morgan Lane by Minister of Veteran's Affairs Kent Hehr.
There were many special guests at the Douglas Remembrance Day service on Nov. 4.
For all of them, it was clear with their stories of the past that passing them on to the children of St. Michael's Catholic School and Cobden were of the utmost importance.
Minister of Veterans Affairs Kent Hehr called it an absolute honour and privilege to be in Douglas to kick off Veterans Week.
As to why he wanted to start the week in Admaston-Bromley Township it was important for him to come to somewhere he had never been before.
"We have to continue to do outreach," said Hehr. "As minister you look to areas you can go to share the story of the men and women who have served this great nation and recognize the communities that are actively participating in sharing the story with the young and old alike."
He said a big part of his job is commemoration.
"Honouring those 2.3 million Canadians who have served in our armed forces, whether they are in Liberal ridings, Conservative ridings or NDP ridings, it's important for us as a government to show that we recognize all Canadians that we are being part of the mosaic this great country is."
He stressed an event like this, even though the riding is held by Conservative MP Cheryl Gallant, was non-partisan.
"I know Member of Parliament Gallant respects and honours our veterans and military heritage as bravely and boldly as I do," said Hehr. "You are 100 per cent correct that when it comes to recognizing the contributions of the men and women who have served this is a non-partisan occasion."
Hehr told media before the event that his government ran an aggressive campaign to do things better for veterans and their families, including more job/educational opportunities and better mental and physical health supports.
He was also very proud of the fact the Liberal government has pledged to reopen the nine Veterans Affairs offices that were closed under the previous government.
So far they have opened two and a third is planned to reopen next week, he said.
As to veterans who face mental health challenges, Hehr said there is no doubt the mind/body connection is very important.
"We know that when a man or woman serves it has great complexities to it. When you take off that jersey we have an obligation to be there to provide support," said Hehr.
It was also a special occasion for Hehr's chief of staff Christine Tabbert, from the Pembroke area, who was very happy to be home in the Ottawa Valley.
Tabbert's grandfather, Hayden Francis, grew up in Bromley Township and every year would lay the wreath at the Douglas service.
Francis, who passed away earlier this year, enlisted in the Second World War, without the permission of his parents, and was the second line of reinforcements on D-Day.
"This is a very special occasion for my family," said Tabbert.
Service
After a wreath laying ceremony outside, the service continued inside.
Hehr spoke passionately on the 118,000 who have paid the ultimate sacrifice for Canada.
"Every day I've lived in peace and security," said Hehr. "We will always remember."
He recalled at his high school 50 men who were as young as 15 years old signed up to go to the First World War. He called out the students in the audience who were almost 15, wanting them to reflect on that.
"They battled for our freedoms, they were kids. It is important we honour and respect them."
He challenged everyone to do three things for Canada's 150th birthday - for Canada and their community.
"By honouring these veterans we are taking their torch and making Canada a better place," said Hehr. "Canada is a great place, our veterans made it so and the Canadian Armed Forces keep it so."
He then made a special presentation to Second World War veteran Morgan Lane, from Denbigh, who landed on D-Day with the 3rd Division of the army and was also a prisoner of war for nine months.
Gallant, who was in a red dress, reminded the students of why people in the Ottawa Valley especially, wear red on Fridays. Two women from CFB Petawawa started the campaign after their husbands served in Afghanista, she explained.
"They thought once a year was not enough to remember," said Gallant.
MPP for Renfrew-Nipissing-Pembroke John Yakabuski, whose father also served in the Second World War, told the large audience how fortunate we are.
He shared a story of finding a speech his dad had once shared at a church and said how blessed and thankful everyone should be to live in our country.
"We owe such a debt of gratitude to the veterans who served," said an emotional Yakabuski. "We can never repay them, every time you see a veteran say thank you."
Admaston-Bromley mayor Michael Donohue thanked the Cobden Legion for hosting what he called one of the most important events of the year in the community.
"I cannot thank enough those who have made the ultimate sacrifice and those who came back."
http://www.insideottawavalley.com/community-story/6951164-veterans-remembered-at-service-in-douglas-with-minister-of-veterans-affairs/
Minister of Veterans' Affairs pays a special visit to Valour School
By Célina Ip
Friday, November 4, 2016 7:05:25 EDT PM
Célina Ip / Daily Observer Minister of Veterans' Affairs and Associate Minister of National Defence Honourable Kent Hehr gave a special presentation to Grade 7 to 12 students at Valour School on Nov. 4. The visit marked the beginning of Veterans' Week in Canada. During his address, Hehr spoke of the importance of honouring Canada's veterans and the brave men and women who continue to serve. One Grade 11 student, Rayden Dunphy (pictured here), was so moved by Hehr's address that she met with him after the presentation to exchange a few words of thanks.
PETAWAWA – Valour School students were honoured by a special visit from Minister of Veteran Affairs and Associate Minister of National Defence Kent Hehr on Nov. 4 to mark the beginning of Veterans' Week in Canada.
Veterans' Week is celebrated in Canada every year from Nov. 5 to 11.
Throughout the week, Canadians are encouraged to engage in acts of remembrance and show support for the country's veterans.
Hehr has been honouring Veterans' Week by doing various presentations throughout the Ottawa Valley, including today's visit at Valour School.
"Petawawa is one of those communities with that important history to Canada's military. Men and women who have served this nation proudly and continually do the heavy-lifting. So to be here today to kick-off Veterans' Week, I can think of no better place than Petawawa," said Hehr. "To be a part of this community for even this day is something I will remember."
Students from Grades 7 to 12 sat in on the presentation in which Hehr spoke of the importance of honouring and commending the bravery of Canada's veterans, still-serving Canadian Armed Forces personnel and RCMP, as well as paying tribute to those who have fallen in the line of duty.
Hehr stressed how it's thanks to the sacrifices made by those courageous men and women that Canadians can live in peace and security each and every day.
According to Valour principal Bryan Baird, 90 per cent of the school's population has a military connection in Petawawa.
"We're a small community so to be recognized by the minister of veteran's affairs and for him to come talk to our kids is so wonderful," said Baird. "Most of our students come from military families, so this means a lot to them."
Due to that personal connection, Hehr's presentation hit close to home for the majority of the students.
"When a man or woman serves, their entire family serves with them. The challenges in military life affect them too," said Hehr.
Many were so moved by Hehr's address that they came up to him after the presentation to personally thank him.
Grade 11 student Rayden Dunphy was so touched by Hehr's words that she teared up as she reflected on his message and what it meant to her.
"Celebrating our veterans is so important because it would be so hard for us to live the way we are without our military. My parents are in the military and still serving to this day," said Dunphy. "And every Remembrance Day I always go to the ceremony with my mom because she's in the military so I go with her and I do whatever she is doing, every year."
To learn more about this year's Veterans' Week, visit: canada.ca/rememberthem
The Government of Canada invites Canadians to take part in one or more acts of remembrance leading up to November 11. Tag social media posts with #RememberThem to help show how Canada remembers.
CIp@postmedia.com
http://www.thedailyobserver.ca/2016/11/04/minister-of-veterans-affairs-pays-a-special-visit-to-valour-school

---
Permissions in this forum:
You
cannot
reply to topics in this forum