Perley Rideau CEO accepts minister's commendation on behalf of teamVeterans' Week poster unveiled with poignant images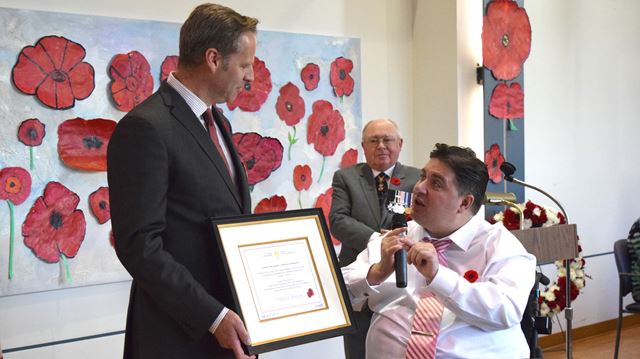 Akos Hoffer, chief executive of the Perley and Rideau Veterans' Health Centre, (left) accepts a special commendation from Veterans Affairs Minister Kent Hehr (right) as Perley Rideau board chairman Ron Buck (centre) looks on during a ceremony on Nov. 9.
Ottawa South News
By Erin McCracken
Outstanding service, commitment and dedication to veterans – those are the qualities for which the head of the Perley and Rideau Veterans' Health Centre has received a special recognition.
But after Akos Hoffer, chief executive of the centre, was presented with the certificate from Minister of Veterans Affairs Kent Hehr on Nov. 9, Hoffer said he was really accepting it on behalf of his team.
"I'm not a nurse. I'm not a physician. I don't work in the recreation and creative arts department. I'm not a dental hygienist or a physiotherapist or an occupational therapist. I sit at my desk and do paperwork," Hoffer said humbly.
"I'm really … accepting this award on behalf of the entire team who really bring their hearts to work everyday and show so much care and kindness to our veterans. We wouldn't be receiving this award without you," he said of the 750-plus staff members and more than 350 volunteers at the centre.
Hoffer also acknowledged the efforts and support shown by Veterans Affairs Canada staff.
While presenting the certificate, Hehr told the crowd of more than 50 people that it highlights the leadership and commitment Hoffer has demonstrated.
The veterans affairs minister, who also serves as associate minister of national defence, also commended Perley Rideau staff for keeping veterans and seniors "happy and comfortable." Of the 450 long-term-care beds at the health centre, 250 are filled by Second World War and Korea War veterans.
"You feel that sense of community," said Hehr, who was also on hand to help unveil a new Veterans' Week poster depicting the Canadian National Vimy Memorial, which commemorates the Canadians who served during the First World War.
The poster's imagery also includes a statue of a woman forlornly resting her chin on her hand as she looks down at graves, as well as a black and white photo of Canadian troops advancing across No Man's Land at Vimy, France.
Hehr said he returned there in June to mark the 100th anniversary of the start of the Battle of the Somme and the anniversary of Beaumont Hamel, where a large contingent of Newfoundland soldiers lost their lives.
"In fact, I think it was close to 800 that jumped the line and only 34 were able to serve the next day – a terrible, devastating loss," said Hehr, adding that the 100th anniversary of the Battle of Vimy Ridge will be recognized on April 9, 2017.
Vimy Ridge is where Canadians "went above and beyond what was expected" and took that ridge against all odds, he said.
"Many have said and I tend to agree that that was a birth of a nation," said Hehr.
His visit coincided with Remembrance Week and he noted that 2.3 million Canadians have served in the Canadian Armed Forces since Confederation.
"And they have done this nation proud every step of the way from Vimy Ridge to Juno Beach to the peacekeeping missions in the '70s, '80s and '90s to Korea to our efforts in Afghanistan and our current efforts in the Middle East," he told the crowd, which included a number of military veterans, including retired Canadian Army general Walter Natynczyk, who now serves as deputy minister of veterans affairs.
"My goodness, they have done what this nation has asked," Hehr said.
http://www.ottawacommunitynews.com/news-story/6956199-perley-rideau-ceo-accepts-minister-s-commendation-on-behalf-of-team/

---
Permissions in this forum:
You
cannot
reply to topics in this forum