Yes the PM admitted to smoking pot, but if I'm not mistaken, he only admitted it when it was brought forward by the media.

It will be interesting to see how many votes he gets from Veterans, come the next election?
The dispensaries themselves claim to be operating in a "gray area" of the law. Many have been raided by police only to defiantly reopen days later. Trudeau admitted in 2013 to having smoked pot five or six times in his life, including at a dinner party with friends since being elected to parliament.

Good on him for admitting it.

Dannypaj

CSAT Member




Number of posts

: 1152


Age

: 41


Location

: Halifax


Registration date :

2015-01-29



Canada police raid Montreal pot stores after Justin Trudeau's warning
Trudeau, who campaigned last year on a promise to end nearly a century of pot prohibition, warned that the government is still at least one year away from legalizing pot use.
By: AFP | Montreal | Published:December 17, 2016 4:18 pm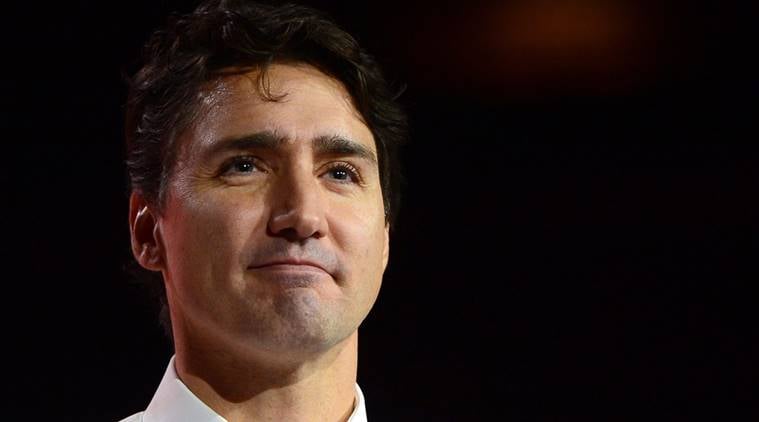 Police in Montreal raided six cannabis shops one day after they opened, following a warning by Prime Minister Justin Trudeau that recreational marijuana is not yet legal in Canada. Ten people were arrested in the raids, police said, including veteran pro-cannabis activist Marc Emery.
Trudeau, who campaigned last year on a promise to end nearly a century of pot prohibition, warned that the government is still at least one year away from legalizing pot use. "We haven't changed the legislation yet," Trudeau told reporters earlier in Montreal. "It is coming, but we're going to take the time to do it right."
Until that happens, the current ban on the possession and sale of marijuana for recreational use remains in effect, he said. Emery on Thursday however went ahead and opened in Montreal six boutiques of the Cannabis Culture franchise chain, which already exist in other cities. Police raided the stores at the end of the day as buyers braved frosty conditions to crowd into the boutiques to buy marijuana.
"The prime minister is a disgrace, as is the Mayor of Montreal, Denis Coderre," Emery cried out as he was being taken away by police. Those arrested will face charges of drug trafficking and possession of items for trafficking purposes, the Montreal police department said.
Police reported seizing 18 kilos of cannabis, as well as money and equipment including scales and containers. Emery, the self-proclaimed "Prince of Pot," has been arrested multiple times.
He was even extradited to the United States in 2010 and served just under five years in prison for selling on his website and mailing more than four million marijuana seeds. He returned to Canada after his release in August 2014. In cities across Canada in the last year, entrepreneurs have opened storefronts seeking to grab market share ahead of the promised legalization.
The dispensaries themselves claim to be operating in a "gray area" of the law. Many have been raided by police only to defiantly reopen days later. Trudeau admitted in 2013 to having smoked pot five or six times in his life, including at a dinner party with friends since being elected to parliament.
http://indianexpress.com/article/world/canada-police-raid-montreal-pot-stores-after-justin-trudeaus-warning-4431984/
Canada's pot laws must consider risks to mental health: expert
By Tania Kohut
December 13, 2016
The impacts of cannabis use on mental health — particularly on young, developing brains and those with a history of psychosis — must be considered as Canada moves forward with pot legalization, experts say.
Young people's brains are vulnerable to substances such as alcohol and cannabis, said Dr. Jürgen Rehm, director of the Institute for Mental Health Policy Research at the Centre for Addiction and Mental Health (CAMH).
"There are a number of risks to the developing brain and to impact mental disorders, especially psychotic events," said Rehm. "The human brain is developing into the 20s."
"The later people start using cannabis … the better."
A minimum age of 18 for access to marijuana was a key recommendation of a federal task force looking at legalization. The task force's report, released Tuesday, states that Canadians must be made aware of the risks of consumption.
"The challenge with setting an age limit is always the balance between the potential risks to the brain or to the developing adolescent health versus the risk of the black market," said task force vice-chair Dr. Mark A. Ware.
The science behind cannabis can be contradictory, Ware said, and a lack of data further complicates the situation. He said the minimum age allows adults to make an informed decision on cannabis use.
"What matters is how we teach parents, children, the public, about what the potential risks and harms of cannabis use are, especially when used very young," said Ware.
Cannabis harms to mental health
A growing body of evidence has linked cannabis use to psychosis.
Cannabis is often regarded as an "innocuous" drug, a 2001 report in the British Journal of Psychiatry notes. However, evidence shows it carries dependency risks and other adverse effects, "particularly among people with pre-existing psychiatric disorders."
"People with major mental illnesses such as schizophrenia are especially vulnerable in that cannabis generally provokes relapse and aggravates existing symptoms," the report states.
A study that followed 45,000 young Swedish soldiers for 15 years found that those who smoked marijuana were more than twice as likely to develop schizophrenia.
Another 10-year follow-up on 2,000 teens entering adulthood found that those who smoked marijuana at least five times were twice as likely to develop psychosis, compared to their non-pot smoking counterparts, according to a 2011 study.
Canada is tasked with moving to a pot legalization model that is combined with a "strict public-health model," said Rehm.
"We do not believe that cannabis is a benign substance, we do not believe that it does not have any harm, but we believe that with legalized cannabis we are able to minimize those harms than in any other environment."
CAMH's 2014 report, Cannabis Policy Framework, which was cited within the task force's report, urges an evidence-based approach to reducing cannabis harm in Canada.
The risks around driving while under the influence of marijuana, or other activities where a consumer or those around them could be injured, is of also of concern, Rehm said.
"Cannabis has a lot of different health effects," said Rehm. "Probably the most severe health effect is cannabis dependence."
Around 100,000 Canadians are currently dealing with cannabis dependency — and that's before legalization.
Canada already has laws in place for medical marijuana use. Cannabis is often touted for its ability to alleviate symptoms associated with a host of illnesses and conditions, from cancer to multiple sclerosis to the treatment of seizures.
WATCH: Parents of sick NS girl beg province to let her try cannabis oil
Marijuana is also commonly used to treat PTSD; Canadian veterans' free daily allowance was recently reduced to three grams per day from 10.
The federal government's plan to introduce marijuana legislation next year will make Canada only the second country in the world to legalize pot. The federal government is treading carefully.
"The delivery of the Task Force report is an important step in helping the Government fulfill its commitment to legalize, strictly regulate and restrict access to cannabis," read a joint statement from a number of federal ministers following the report's release.
In a submission to the task force, the Canadian Medical Association stressed the need for access to substance abuse and mental health services to be expanded along with marijuana legalization.
"A plan to expand training programs in addiction medicine and access to treatment should be in place prior to legalization," the CMA submission stated.
Rehm said it's vital that the federal government use pot revenues, projected to be in the billions annually, for substance abuse education and support services.
"We have to make sure, hopefully there's a law, that there is a dedicated tax for clinical, education, administration, research and enforcement," said Rehm. "That has to be done."
http://globalnews.ca/news/3124025/marijuana-legalization-mental-health-canada/
Pot task force recommends legal cannabis sales be limited to users 18 and overCanadian government has promised to table legislation legalizing cannabis in spring 2017
By John Paul Tasker, CBC News Posted: Dec 13, 2016 8:58 AM ET Last Updated: Dec 13, 2016 2:08 PM ET
The task force appointed by Ottawa to study the legalization of marijuana said Tuesday that cannabis sales should be restricted to those 18 and older, with a personal possession limit of 30 grams.
A task force appointed by the Canadian government to study the legalization of marijuana determined Tuesday that sales should be restricted to those 18 and older, with a personal possession limit of 30 grams.
The Canadian Medical Association had recommended setting the age at 21, with strict limits on quantity and potency until 25. But the task force said higher age limits would simply drive young consumers into the hands of the black market, something the government hopes to actively discourage with its push to legalize pot.
Provinces and territories should, however, be provided with the flexibility to set their own age restrictions on purchasing the drug, the report said. The nine U.S. jurisdictions that have legalized marijuana sales have matched the age limit to the drinking age of 21.
"Now is the time to move away from a system that has, for decades, been focused on the prohibition of cannabis into a regulated legal market," said Anne McLellan, a former Liberal cabinet minister and chair of the task force.
'Now is the time to move away from a system that has, for decades, been focused on the prohibition of cannabis into a regulated legal market,' says former federal cabinet minister Anne McLellan, chair of the federal task force on legalizing and regulating pot.
"I think we're all aware of the challenges and societal problems that the existing system has created," she said, pointing to the flourishing illicit market for the drug.
The government has promised to table legislation in spring 2017, but it could take much more time for the bill to be studied and eventually passed into law.
The task force said Tuesday that timing for legalization is the government's prerogative. "Timelines from this point on are up to the government of Canada."
Choke off organized crime
The report recommends Ottawa impose many of the same restrictions that currently apply to alcohol and tobacco sales, namely limits on advertising, to cannabis, to discourage use by young people.
Prime Minister Justin Trudeau has said key objectives of the legislation are to keep marijuana out of the hands children and to choke off profits to organized crime.
While it says cannabis consumption for personal purposes should be legalized, the task force recommends criminal penalties for illicit production and for those trafficking the drug to youth and international markets. McLellan also said that during this "period of transition," existing laws that prohibit possession should be enforced until legislation is in place.
McLellan says time to legalize pot is now
Cannabis should be sold in storefront locations, the report said, but it recommends a ban of co-locating cannabis with alcohol and tobacco products, a blow to some provinces, like Ontario, which had hoped to sell marijuana in government-owned liquor stores. It also said cannabis products should be sold in plain packaging, as the Liberal government has promised to do with tobacco.
The report also suggests limits on the density of cannabis storefront operations, and regulations to keep them away from schools, community centres and public parks.
The task force did not recommend a set price for cannabis, but suggested higher taxes on cannabis with elevated levels of tetrahydrocannabinol (THC), the chemical responsible for most of marijuana's psychological effects, to discourage use.
Tax revenues generated from the sale of cannabis should be directed toward public education campaigns and further research on the health risks associated with consumption, the report recommended. It also said the government should help develop a body of research on the effects of cannabis-impaired driving.
McLellan said there is a dearth of scientific research on what the legal limits should be on consuming cannabis and operating a vehicle.
McLellan says education key to stop drug impaired driving
"This isn't going to be a new challenge created by legalization," McLellan said. "Drug-impaired charges are being laid every day in courts across this country."
The Ontario Provincial Police and the RCMP are testing three roadside oral fluid testing devices to determine THC levels, the former minister said.
Potential boon
The task force suggested the current medical marijuana regime, set up after successive court challenges, be maintained for the time being.
In fact, it said the professional production techniques developed under the current system should be applied to the cultivation of cannabis for personal consumption, a potential boon for some producers who have been looking to cash in on a liberalized marijuana market.
However, McLellan said, the task force does not want to see production concentrated in the hands of only large producers.
"We heard from a great many parties that they wanted a diversity of producers, and we agree with that," she said, adding she hopes some black market producers will choose to bring their operations under the new legal regime.
Personal cultivation should also be maintained, the report recommended, but with a limit on four plants per home, and a height restriction of 100 cm to reduce fire risks.
Edible pot products will also be legalized but they must not be "appealing to children" and cannot mimic familiar food items or be packaged to look like candy.
The task force's recommendations are not binding on the government.
Nine members of the task force held roundtables with experts across the country, visited two U.S. states where pot is already legal and heard from about 28,000 Canadians through online consultations.
http://www.cbc.ca/news/politics/marijuana-legalization-pot-task-force-1.3893876

---
Permissions in this forum:
You
cannot
reply to topics in this forum