That's a really well written letter...
RE:
" Recently a blanket announcement was made about a shuffle within the Liberal cabinet . . . "
I was really hoping MVA Hehr would have been shuffled out. Darn it !
But who would be a good one ? ...
Because integrity without a best before date seems to be lacking these days.
Going to the No Frills produce section now . . .


pinger

CSAT Member




Number of posts

: 1243


Location

: Facebook-less


Registration date :

2014-03-04



If the federal governments past and present expect injured and wounded veterans to invest the disability award/s some receive,  they are looking through the looking glass on that.

In some cases that might be fine, but for the vast majority this is a recipe for financial disaster at some point, for lack of financial security.

Maybe and I mean a real maybe, if the lump sum award was actually one payment as opposed to a series of payments, some might make it work.

For example 10% in 2009 then another 15% in 2010 and a further 15% in 2016.  These split up assessments and positive awards actually further complicate financial matters for some, because no matter how good intentioned someone is, if their is the presence of mental illness,  the money won't last.....and nobody can see the future and see further awards.

Monthly pensions offer security. And veterans deserve nothing less.
Last edited by bruce72 on Thu 02 Feb 2017, 14:30; edited 1 time in total (Reason for editing : grammar)

Bruce72

CSAT Member




Number of posts

: 743


Location

: Newfoundland


Registration date :

2014-03-13




Vet1234

CSAT Member




Number of posts

: 571


Location

: Ontario


Registration date :

2016-07-27



What will be the headlines in April?

Soldiers baffled and low balled with low-chump sum payment,
what was promised?

What they are offering us is pretty petty.
But we will revaluate your TPI status in two years?
No security if cut off from ELB, just maybe the PIA, but that can be reviewed as well.
Last edited by Dannypaj on Thu 02 Feb 2017, 20:14; edited 1 time in total

Dannypaj

CSAT Member




Number of posts

: 1152


Age

: 41


Location

: Halifax


Registration date :

2015-01-29



Teen,

I fully agree, Bruce is an excellent writer.

In this particular article he nails it bringing the true colors of the Liberals and Hehr.
Neither, the PM or the MVA has the knowledge to operate the Veterans file, like Bruce say's, our MVA speaks on everything but Veteran issues, why? The answer is simple, he is lazy and does not want to learn our file simply because he is relying on the bureaucrats to run the whole show.

Perception is key for the Liberals and our Minister, as long as they can continue to elude being proven to be useless and uneducated on our file, the perception continues and our MVA sits back and shines as a Minister who is making great strides and great progress on our file.

Like I said before, we are stuck with them for this 4 year term, we will see at the end of their term how they fair on our file.
So Bruce is going to get a phone call. Hope he writes about it because this guy is one hell of a writer!

Keep the pressure on them Bruce. Hope the 2nd last para embarrasses the press and politicians to knuckle down and lean on VAC.

Teentitan

CSAT Member




Number of posts

: 3314


Location

: ontario


Registration date :

2008-09-19



Replacing Parliamentary Secretary A Gross Disservice To Veterans
Bruce Moncur
Posted: 02/01/2017 11:00 am EST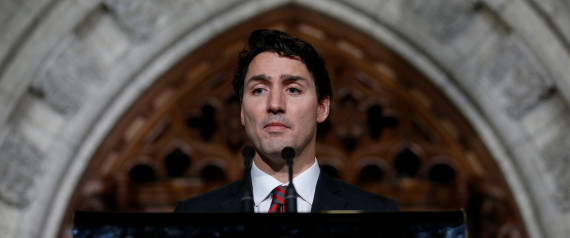 Recently a blanket announcement was made about a shuffle within the Liberal cabinet as a new wave of appointments were made within the departments pertaining to the parliamentary secretary. One that I found interesting was replacing Veterans Affairs Parliamentary Secretary and retired lieutenant colonel Karen McCrimmon with Sherry Romanado.
Many in the community saw Karen McCrimmon as the only person within the department trying, a Canadian Forces pioneer that had showed up to more of my service excellence committee meetings than the actual minister.
While Veterans Affairs quietly and unceremoniously disposes of the only veteran working within the department, they will hold yet another ribbon-cutting to commemorate the opening of a VA office, this time in Thunder Bay -- flashbulbs and flickering smiles all around.
It is the dictionary definition of milking publicity. A total of nine offices are reopening, representing the easiest of the department's promises to make good on. Along with increasing the Earning Loss Benefit to provide injured veterans with 90 per cent of their pre-release salary, these are the only two things things the department has done in the year and a half it has had.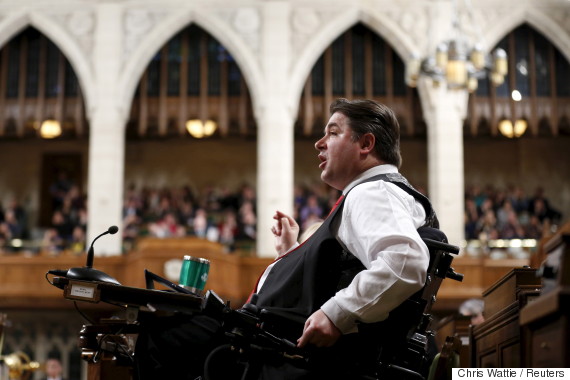 Canada's Veterans Affairs Minister Kent Hehr speaks during Question Period in the House of Commons on Parliament Hill in Ottawa, Canada, Jan. 25, 2016.
As veterans like me enter the 11th year without our life-long pensions, let me explain what you are supposed to do with that lump sum. The expectation is that you invest that money -- the maximum you can receive is $306,000. The average, though, is $26,000. In exchange for sacrificing five per cent of my brain in an attack, I initially received $22,000. It was only after nine years of fighting, bloggin, interviewing, and petitioning former MPs Joe Comartin, Peter Stoffer and Frank Valeriote (Liberal) that I could get my pension to where it rightfully should be. I did not get the bulk of my lump sum until after the great recession of 2008, meaning those who did had their pensions almost wiped out -- all despite assurances that the odds of that happening were slim to nil.
Then Prime Minister Justin Trudeau comes along and promises to fix all the problems (that his party created in the first place) -- the mandate letter, the appointment of a minister who overcame a disability, the unbridled optimism and smiles.
First it was "Give us a little while to figure things out, we just formed government." Then it was "Well, it's Christmas break. Wait until the first budget." Then it was "Well, the budget was not what you expected, so let's work together and with what we got. Oh, and we are reopening the court case fighting lump-sum pensions." Then it was summer break.
Between the inactivity on the file and the alternative facts presented not just to the veterans, the prime minister had no choice but to shuffle his cabinet.
The PMO's office, in its infinite wisdom, decided to replace the only person that was actually trying.
It was at this moment that many thought the Liberals would start taking their promises to veterans seriously. Alas, Minister Kent Hehr remained. This is a man whose social media profiles rarely mention veterans. It is very clear that veterans are not his priority. Instead, he has been dedicating days going door-knocking in his riding in anticipation of the next federal election in 2019. The people of Calgary Centre now have something in common with the people of Vaughn, Ontario -- their riding has become synonymous with the plight of the veteran.
Then the PMO's office, in its infinite wisdom, decided to replace the only person that was actually trying, a Canadian Hero, with a woman whose Wikipedia entry contains little more than her birthdate and the fact that she is a Canadian politician.
Electoral reform -- what a mess the Liberals made of that. So now you have a new parliamentary secretary and everyone is going to say "Just give her a little while to figure things out," and by then it will be summer break. Meanwhile, post-traumatic stress disorder does not give its sufferers a grace period, there is no summer break. Everyone says, "Just wait until the budget," only I know for a fact that our committee made no suggestions before the November deadline for the budget report, and even if it had (do I really need to finish this sentence)?
Here is the juxtaposition: the government has no intention of restoring life-long pensions, despite campaigning on such a vigorous platform. So, at the town hall when a tearful woman asks the prime minister when he will do right by the veterans, he rambles for five minutes without answering the question. A more perfect example on how to say something without saying anything could not be found.
Minister Hehr takes his marching orders very well, and to date the opposition and the press have not been putting any pressure on him. (That is, except the Globe's Gloria Galloway, she truly has been the lone voice and I thank her.)
If I were a member of the Liberal caucus who unceremoniously and quietly replaced a parliamentary secretary that cared about veterans with someone that helped ensure that 2015 would not be the last past-the-post election, I know I couldn't look myself in the mirror.
http://www.huffingtonpost.ca/bruce-moncur/trudeau-cabinet-shuffle-veterans_b_14436962.html

---
Permissions in this forum:
You
cannot
reply to topics in this forum