Canada reviewing defence spending calculation
THU, MAR 09, 2017OTTAWA —
Defence Minister Harjit Sajjan says he has ordered officials to take a closer look at how Canada calculates its military spending compared to other NATO allies.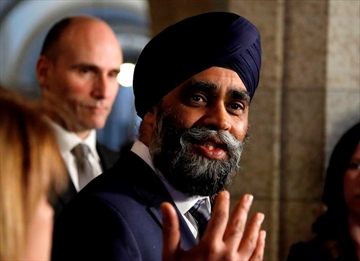 Canada reviewing defence spending calculation
The admission comes amid speculation the government wants to change how it reports defence spending to NATO by rolling in the coast guard's budget and veterans programs that were not previously included.
The idea would be to get Canada closer to
NATO's goal of spending two per cent of GDP
on defence and ease the pressure from Washington, where the Trump administration has called on allies to spend more.
Sajjan won't say whether the Liberals are prepared to change the formula for calculating Canadian defence spending.
But he did say the government wants to make sure that everyone is comparing apples to apples when it comes to looking at how Canada stacks up with its NATO allies.
Canada currently spends less than one per cent of GDP on defence, ranking 23rd out of 28 NATO members.
By The Canadian Press
http://www.kingstonregion.com/news-story/7182423-canada-reviewing-defence-spending-calculation/
Harjit Sajjan Pressed By Tories On 'Danger Pay' Issue Impacting Troops In Kuwait
The Huffington Post Canada By
Ryan Maloney
Posted: 02/09/2017 5:32 pm EST Updated: 02/10/2017 8:24 am EST
A defence minister who is a veteran of three combat tours in Afghanistan attempted to fend off accusations Thursday that the government he serves is pinching pennies when it comes to soldiers in harm's way.
Harjit Sajjan was pressured by Conservatives in question period over revelations from CTV News that more than 300 soldiers in Kuwait, who are assisting in the fight against the so-called Islamic State, will lose a tax break worth at least $1,500 a month. The tax break is essentially danger pay for troops stationed in especially unsafe areas.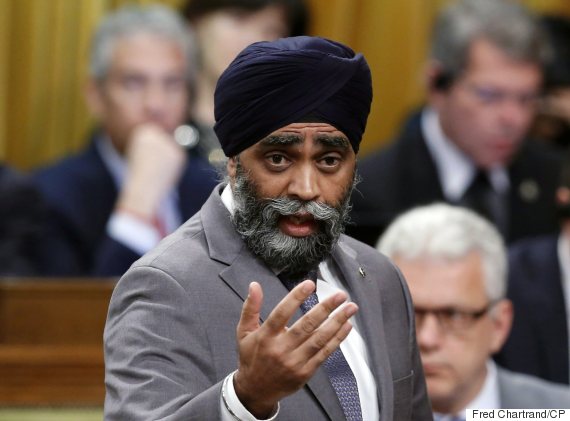 Defence Minister Harjit Sajjan speaks in the House of Commons on Feb. 9, 2017.
It's an issue Tory critic James Bezan raised with Sajjan at a defence committee meeting in December, weeks after 15 soldiers at U.S. airbase Camp Arifjan in Kuwait learned they would not receive the same break as other soldiers because their risk level had been downgraded.
Bezan told the House of Commons Thursday that when he asked Sajjan to address that inequity late last year, he never imagined that would mean "taking away everyone's danger pay." Bezan asked why the prime minister was "betraying" men and women in uniform.
Sajjan said he agreed with his critic that the situation was not "fully fair," and has asked the chief of defence staff and other agencies to review compensation rules.
"The defence minister is a proud veteran and he knows better than anyone how important danger pay is not just for our brave men and women in uniform, but for their families back home as well," Bezan said.
'Despicable' situation: Tory critic
"Now, we all knew the Liberals would cut defence spending but we didn't ever imagine they would literally do it on the backs of our soldiers and military families."
Sajjan said he realized "some of these inequities" existed when he first visited Kuwait in 2015 because of rules put into place under the previous Conservative government.
Pierre Paul-Hus, the Tories' associate defence critic and a veteran himself, said it was "despicable" that Sajjan was "asleep at the switch" on this issue.
"As a former unit commander, I'm ashamed of my country," Paul-Hus said, according to a translator. "Ashamed of the way the Liberals are treating our troops."
Sajjan says government 'working through' issue
Sajjan said it was despicable that troops were sent "in the first place" in 2014 "without all these compensations."
Again, the defence minister suggested a process was underway to resolve the issue.
"Many different departments are involved and we are working through it," he said. "And we will get through this."
Paul-Hus then accused Sajjan of only taking action in light of media reports.
At the defence committee meeting on Dec. 1, Bezan asked Sajjan if he was committed to making sure that Operation Impact troops stationed at the air base received the same "pay and benefits" as others in Kuwait.
"Absolutely," Sajjan replied, noting there was work to be done between the Treasury Board and military.
"But we are working through the complexities based on how this is done to make sure there is more equity for our troops when it comes to deployments," Sajjan said at the time.
"I'll look forward to having that rectified," Bezan said.
Sajjan is a retired lieutenant-colonel with the Canadian Armed Forces. He is also the first Sikh-Canadian to command an army regiment.
CORRECTION:
An earlier version of this story indicated that Camp Arifjan in was in Iraq, not Kuwait.
http://www.huffingtonpost.ca/2017/02/09/harjit-sajjan-danger-pay-iraq-isis_n_14664498.html
Trump is going to put all NATO Countries on notice to keep up with the 2% per year spending on defence.

I say, it's about time.
Liberal election promise was to 'maintain current DND spending levels, including current planned increases'
Canada will be spending more on defence, but how much more, and in what areas remained unclear Tuesday as Defence Minister Harjit Sajjan made the media rounds in Ottawa following his first-ever sit-down with his new U.S. counterpart.
"We are committed to investing in our defence," Sajjan said in an interview with CBC News Network's Power & Politics, a message he repeated on other news programs, and in front of reporters on Parliament Hill.
That the message needed to be hammered home in public following his meeting on Monday with U.S. Defence Secretary James Mattis should be no surprise.
The Trump administration has made it clear it expects allies to put more money into military spending, but the Trudeau government has been decidedly fuzzy on what it intends to do in the upcoming federal budget.
Last year, the newly-elected Liberals were able to claim — justifiably — that their military spending plans would be calibrated after they had conducted a defence policy review — something that's now largely completed.
Sajjan candidly acknowledged Tuesday that Washington had significant input into the review, which is expected to be released sometime in the next few months.
"We get input from all our allies, particularly in the Five Eyes community," Sajjan told host Rosemary Barton, referring to the U.S., Britain, Australia, New Zealand and Canadian intelligence sharing pact.
The British were also heavily involved in giving advice to Canadian defence planners.
How the opinions of the country's two longest-standing allies helped shape the Liberal views on defence spending and global engagement, remains to be seen.
Allies lean on Canada
At the 2015 Nato summit in Wales, both the Obama administration and the government of former British prime minister David Cameron, leaned on Canada to meet the Nato benchmark of spending two per cent of gross domestic product on defence.
Former prime minister Stephen Harper countered the pressure by saying allies should look at what Canada is doing for the alliance, the kind of equipment it brings to missions and the fact that it can always be counted on to show up.
It is an argument that the Trudeau government has also adopted — and Sajjan has often repeated, including on Tuesday.
But it is a line that many experts in the defence community don't believe will wash with U.S. President Donald Trump, who has often questioned the relevancy of Nato.
Liberals backed Tory plan
During the last election campaign, the Liberals promised to hold the line on defence spending, which runs in the vicinity of $21 billion per year. Their platform also pledged to carry on with military budget increases outlined in the last budget tabled by Harper's government in 2015.
That fiscal plan allowed for a gradual increase over 10 years of $11.8 billion to the baseline appropriation at National Defence, beginning in the 2017-18 fiscal year.
According to former finance minister Joe Oliver's projections, that would mean a $184 million increase this year, with the cash ramping up gradually to $2.3 billion per year by 2026-27.
Sajjan was asked directly on Tuesday by Barton whether the Liberals still intended to live up to that pledge — he deflected the question and talked about what Canada contributes to international missions.
http://www.cbc.ca/beta/news/politics/liberals-defence-spending-1.3971400

Bruce72

CSAT Member




Number of posts

: 727


Location

: Newfoundland


Registration date :

2014-03-13




---
Permissions in this forum:
You
cannot
reply to topics in this forum