and this is the way things are today I guess . turns my fracking stomach .

propat
Thank you for your service,' Halifax judge tells veteran suffering from PTSD
Former army reservist Michael James Davidson did three tours of duty overseas as a member of the West Nova Scotia Regiment. 'All that Veterans Affairs offers you is pills?' Judge Bill Digby asked during Davidson's sentencing for uttering threats. 'Is that what you are telling me?'
By
Steve Bruce
17.02.2017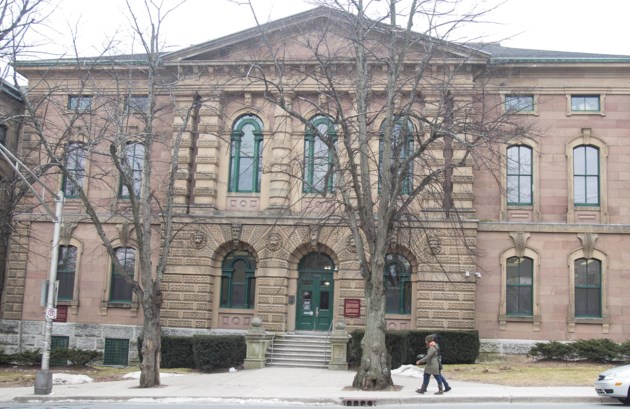 Michael James Davidson, 50, was supposed to stand trial recently in Halifax provincial court but changed his plea to guilty.
A Halifax judge thanked a former army reservist for his service to his country before handing him a conditional discharge for uttering threats.
Michael James Davidson, 50, was supposed to stand trial recently in Halifax provincial court but changed his plea to guilty.
The court heard that Brian Lightfoot was walking to the McDonald's restaurant in Spryfield last July when he stopped to say hello to Davidson, who was drinking a large bottle of mouthwash with a friend.
Davidson threatened to kill Lightfoot and throw his body into a nearby waterway.
After Lightfoot turned around to return to his River Road apartment building, Davidson said he was going to go there and kill him.
Davidson told the court he agreed with the facts presented by the Crown.
"I'm a veteran and I suffer from PTSD," Davidson explained to Judge Bill Digby.
Crown attorney Sean McCarroll said he and defence lawyer Katie Lovett were jointly recommending a conditional discharge, with conditions that Davidson receive counselling for substance abuse and mental health issues.
"When Mr. Lightfoot came into my office this morning, the first thing he said was "I just want Mr. Davidson to get the help that he needs,' " McCarroll said.
"It's apparent that Mr. Davidson struggles with substance abuse and PTSD. … The hope here is that we're able to get Mr. Davidson on the right track with this recommendation."
Davidson said he was a member of the West Nova Scotia Regiment, a reservist unit based at Camp Aldershot near Kentville, for 8.5 years and did three tours of duty overseas, serving in Bosnia, Iraq and Afghanistan.
Davidson said his military service left him with post-traumatic stress disorder and substance addictions and he ended up homeless.
"I lived at the Salvation Army for two years, trying to stay clean," he said.
"I tried to help myself the best I could, but I kept relapsing."
The judge asked him what kind of assistance he's getting from Veterans Affairs Canada.
"Nothing," Davidson replied. "Not a nickel, because I was a reservist.
"You've got to be regular force and you have to have a minimum of 10 years in to get any kind of pension."
Davidson said Veterans Affairs would have paid for his prescriptions, but they are covered through social assistance anyway.
"Veterans Affairs won't give me any kind of a pension or anything like that, no money, so I was just better off going on welfare," he said.
Davidson said he now has his own apartment on River Road but some of his buddies from his military tours remain homeless.
"All that Veterans Affairs offers you is pills?" the judge asked. "Is that what you are telling me?"
"That's the only thing they would do for me — pay for my prescriptions," Davidson said.
"They won't give me a service dog. They won't give me a pension at all."
Davidson said he appreciated being able to tell the judge "who I am."
"Thank you for your service," said Digby, who was clearly moved by the veteran's story.
"You're welcome," Davidson replied.
The judge said the sentencing recommendation from lawyers was appropriate. He praised Davidson's victim for his "thoughtful and compassionate approach."
Davidson's conviction will be discharged if he successfully completes a year's probation.
The summary conviction normally carries a $100 victim fine surcharge, but the judge reduced it to $1 because of financial hardship.
https://www.localxpress.ca/local-news/thank-you-for-your-service-halifax-judge-tells-veteran-suffering-from-ptsd-539051

---
Permissions in this forum:
You
cannot
reply to topics in this forum