Canadian Military Family -  MIshall Rehman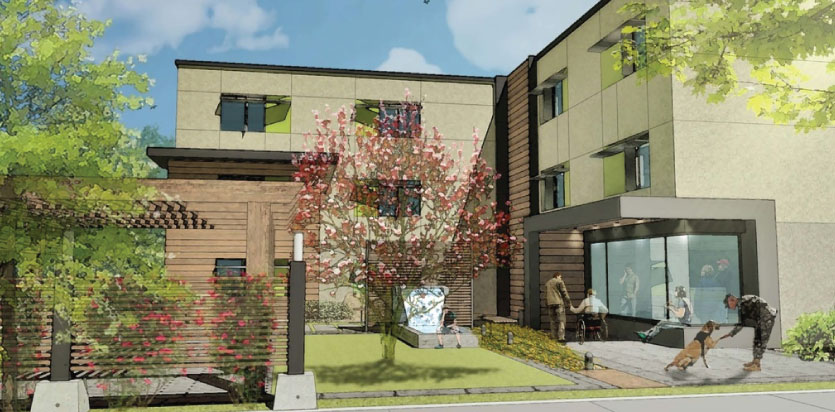 The Multifaith Housing Initiative (MHI), a federally incorporated charity providing housing to those that need it most, is currently laying the groundwork for its latest project: a one-of-a-kind housing facility for Ottawa's homeless veterans.
To be built on the former CFB Rockcliffe Airbase Lands, the Veterans House will consist of 40 self-contained bachelor apartments.
But to build this dream, the MHI needs to first raise $8 million.
To raise these funds, amongst other fundraising events, the MHI hosted a fundraising concert on Sunday, April 30 in the Ottawa-area. The Capital Celtic Concert, by the RCMP Pipes, Drums, and Dancers of the National Capital Region, promised to be an afternoon filled with music and dance.
Partial proceeds went towards the Veterans House.
The Veterans House is specifically designed to house homeless and at-risk homeless veterans and would help them gain stable housing, recover from mental health ailments and addictions.
MHI Executive Director Suzanne Le first learned of the condition of homeless veterans at an event by Ottawa's then-Deputy Mayor, Steve Desroches, in 2013. As fate would have it, not long after that, she attended another event sponsored by Canada Lands Corporation (CLC) to discuss a commemoration piece to recognize the former CFB Rockcliffe Airbase Lands. Instead of the typical statue or street naming, Le had something more significant in mind.
"I pitched him [head of CLC] the idea that instead of having a statue or naming a building, actually having a building on the former base that would commemorate the military history of the base by serving those military members in need now," said Le.
The idea took root and developed from there.
Originally, the facility was to incorporate 16 units; but after researching the growing need and rise of homeless veterans in the nation's capital, the number of units needed number bumped up to 40.
MHI has been working alongside organizations like Soldiers Helping Soldiers and Canadian Forces Morale and Wellness to develop a facility to address all of the needs of homeless veterans including a mental health care plan.
From her research, Le has learned that a community-centric approach to the Veterans House would be most suitable for veterans.
"What I learned was that military personnel have a very unit-oriented mentality. They fight in units, they work in units, they really look out for those in their unit. Some of the successes with housing homeless veterans in Toronto is when they were housed together. They seem to recover a lot better," noted Le.
The Veterans House, therefore, will also include communal spaces.
From working on this project, Le has realized that many Canadians do not realize that there is such a large homeless veteran population in the country.
"It is kind of shocking, but there is, what I would refer to, as a social contract between Canadians and veterans and the military community. We have a social contract to take care of them. These men and women are going out and putting their lives on the line, and they're getting themselves injured protecting our freedmen and protecting Canadian ideals around the world. They're risking their life. And they come back here, and we're not taking care of them," stated Le.
Construction is expected to begin on the Veterans House project by spring 2018 latest.
To donate to the project, click link http://(http//www.multifaithhousing.ca/veterans-house.html
http://cmfmag.ca/latest_stories/former-cfb-rockcliffe-airbase-set-to-house-ottawas-homeless-veterans-2/#

Loader

CSAT Member




Number of posts

: 27


Location

: Trenton Ontario


Registration date :

2017-02-07



see now that there brings a tear to my eyes

RobbieRoyal

CSAT Member




Number of posts

: 1697


Location

: Petawawa Ontario


Registration date :

2013-02-15



Why can't VAC or the GOC just do something right for a change and GIVE the MHI 8 million. Oh wait that wouldn't appropriate cause some he-she wants it's own bathroom. Why can't we get the same publicity as the LGBTQRSTUV community. Effen libtards.

prawnstar

CSAT Member




Number of posts

: 263


Location

: on an island


Registration date :

2012-09-20



Prawnstar, while I do agree that it would be best if the GoC just ponied up the money, I cannot abide by insulting or ridiculing specific groups of Canadians, just because you do not agree with their lifestyle. There may be members who fall into that group, and they, and anyone else deserves the right to read this site, without feeling that they are being targeted, because of something the GoC does or doesn't do for Veterans. So please refrain from similar comments in the future. Thank you.

bigrex

CSAT Member




Number of posts

: 3047


Location

: Halifax, Nova Scotia


Registration date :

2008-09-18



Wouldn't this idea be even better if JT kept his promise for Wellness Centre's?

Isn't getting homeless vets off the street part of being well? So yeah give the $8 million to this group JT and keep at least one of your damn promises you have made to veterans!

teentitan

CSAT Member




Number of posts

: 3209


Location

: ontario


Registration date :

2008-09-19



Teen,

I think the Liberals have lost it big time with regard to promises, the ones that were implemented thus far were half measured, except of course for the re opening of the coffee shops. I'm still waiting for the biggest promise to be brought forward. Nothing against refugees, but the Liberals wasted no time getting that major promise completed. Perhaps it was because the refugee file put the Liberals on the global spotlight. Where as Veterans are left for the bureaucrats to take advantage of in keeping their long term interest and security in check. I think the wellness and homeless situation is being directed down to the provinces to tackle, another well planned maneuver by the Liberals. Bottom line for me is the Liberals seem to want to go where they can be in the spotlight, and differ substantively from the other parties, regardless of the logic or price tag that comes with it.

Trooper

CSAT Member




Number of posts

: 4889


Location

: New Brunswick


Registration date :

2013-02-18



Trooper the phrase used by VAC and bureaucrats is "DOWNLOADING TO THE PROVINCES".

It is already happening with perishable daily living aids. The amount of perishable items is the amount the provincial health care system allows. Retirement homes take on vets and get the vet's monthly payment paid directly to the home.

Mental health plans will give veterans the same treatment to vets as the population. Hehr said it word for word about a year ago but he added "VAC does not want to step on the toes of the provincial mental health programs"

So the wellness centre's promised by Mr. SunnyWays is but a dead idea he will probably bring back up on the next election campaign!

teentitan

CSAT Member




Number of posts

: 3209


Location

: ontario


Registration date :

2008-09-19




Similar topics
---
Permissions in this forum:
You
cannot
reply to topics in this forum