Former sailor with PTSD denied compassionate award for financial hardship
A former sailor with the Royal Canadian Navy lauded for his courage after coming to the assistance of his shipmates 'to stop a horrific beating' nearly three decades ago outside a British pub has been denied compassionate financial assistance to help deal with his post-traumatic stress disorder.
June 07, 2017
By
Chris Lambie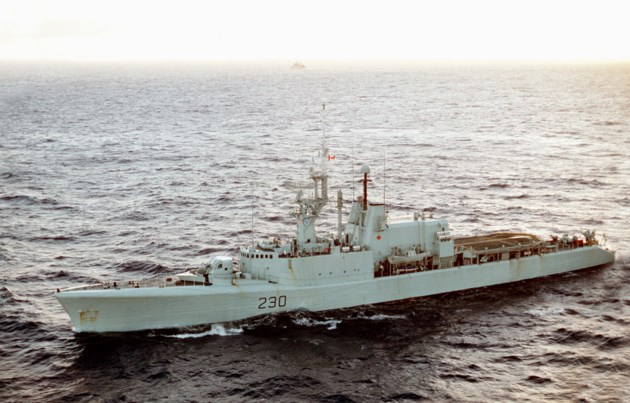 HMCS Margaree is shown during exercises in 1990. One of the ship's former sailors has been denied compassionate benefits after suffering severe injuries when he came to the defence of shipmates during a fight in Liverpool, England, in 1988.
A former sailor with the Royal Canadian Navy lauded for his courage after coming to the assistance of his shipmates "to stop a horrific beating" nearly three decades ago outside a British pub has been denied compassionate financial assistance to help deal with his post-traumatic stress disorder.
The Veterans Review and Appeal Board ruled the former sailor, whose name is redacted from the decision, wasn't able to demonstrate his financial need for such an award, despite his wife's testimony that the couple sometimes can't even afford to buy milk and bread.
"The panel requires a demonstrated financial need. Unfortunately, the evidence in this regard is inadequate," said the board's recent ruling.
The 69-year-old man's PTSD stems from a Sept. 27, 1988, fight that took place at 1:45 a.m. between four Canadian Armed Forces members, including the sailor in question, and five civilians outside a pub in Liverpool, England.
The sailor, a petty officer 2nd class aboard the now decommissioned destroyer HMCS Margaree at the time, "came to the aid of three of his shipmates to try to stop a horrific beating that was occurring at the hands of several Welsh longshoremen who were armed with small baseball bats used as weapons," said a statement from the man who was HMCS Margaree's executive officer at the time. His name is also scrubbed from the decision.
"Courageously and instinctively, he intervened to try to stop this brutal attack, which started out as a robbery of one of Margaree's sailors. In doing so, he subjected himself to an even worse beating."
When he learned of the attack, the executive officer went to the hospital where his sailors were being treated and could not easily identify the man in question because he was so badly injured. "He was revered by the ship's company for his courage and selfless action in trying to protect his shipmates," said the officer's statement, dated Jan. 4, 2017.
The sailor had to be flown back to Canada because his jaw injuries were so bad. He "was unfit to return to sea with Margaree for a period of time, and the entire crew missed him and were distraught at this horrible turn of events," said the executive officer.
The injured sailor, who served 34 years in the military, was seeking what's termed a "compassionate award" in respect of his PTSD, "which was denied pension entitlement through all levels of appeal," says the board's decision, dated May 10.
"He believes his case is specially meritorious and deserving of compassionate consideration."
A May 2016 letter from Cmdr. Kenneth J. Cooper, a military psychiatrist, indicates the sailor "has chronic, mild to moderate PTSD, secondary to being assaulted while on shore pass from HMCS Margaree, in Liverpool UK, in 1988."
The doctor goes on to state: "The contentious issue in this case has not been about the existence of PTSD, or that it is secondary to the assault, or that he was a crewmember of HMCS Margaree, or that he was in Liverpool because that is where his ship was conducting a port visit. (Veterans Affairs Canada) has ruled that he was not on duty at the time of the assault (he was on shore pass), and as the ship was not in an active duty area, his condition was deemed not eligible for benefits from VAC."
The sailor has "been through a gamut of mental health challenges" since he "came to the aid of a fellow shipmate (a petty officer 1st class) who was being assaulted by a group of local thugs," said his statement dated Feb. 11 of this year.
With no other crewmates in sight, he followed standing orders and went to the aid of the other Canadian sailor.
"(As a) result of this gallant act, I suffered many injuries, which included plates in my mandible and I was diagnosed with a concussion and a bilateral mandible broken on my left and right side, because of these injuries I was repatriated home," he said.
"Due to this incident I suffer with nightmares, apprehensions and I'm prone to severe states of anxiety; these ailments I suffered on a daily basis."
After he got out of the military in 2002 on a medical release due to high blood pressure the former sailor said his doctor told him he should not work due to his blood pressure and mental state.
"In 2005 (I) got tired of the nightmares and looked for help," he said, noting he was diagnosed at Stadacona Hospital with PTSD caused by the Liverpool incident.
"I still get warm flushes and lose time anywhere from 10-15 minutes or couple of hours up to … one or two days."
The former sailor said he has difficulty remembering what he's done. "I have been home and I get a warm flush and a little later I know I have to go out to the grocery store so I check the fridge and, wow, I have been already there and back."
The former sailor "is entitled to a compassionate award based on the fact that his case is specially meritorious in light of the significant nature of his disability, his financial need, and his lengthy, honourable and heroic military service," an advocate wrote on his behalf.
"While ashore and after a day performing various service-related functions, the appellant went to a pub on his way back to ship. On leaving the pub, he noticed one of his fellow shipmates was being mugged. The appellant intervened and was hit with a baseball bat. As a result of this incident, the appellant now suffers from Post Traumatic Stress Disorder. As the appellant's condition developed as a consequence of coming to the aid of a fellow service member, he should be granted a compassionate award."
The former sailor's wife "noted they are in a financial situation where they can barely meet their bill payments," said the advocate. "They sometimes have to wait to buy milk or bread until pay day."
People can only apply for compassionate awards when they have exhausted every other avenue to get compensation for a disability.
The former sailor first sought disability benefits for his PTSD in February 2006. Veterans Affairs Minister Greg Thompson, a Conservative, denied it six months later.
"The minister found there was no documentation to support that the 1988 assault was a service-related incident," said the board's recent decision.
A year later, a review panel denied him again, concluding the former sailor "was not on duty or in the performance of any service-related activities at the time of the assault in 1988."
In March 2009, an entitlement appeal panel denied him a third time. "The panel concluded the appellant was not on duty at the time of the injury and the assault occurred while the appellant was on shore leave. The appellant was under no military orders or directives to attend the location he found himself. The reason for meeting or spending time with other members was entirely personal."
In his most recent appeal, the appeal board determined the former sailor's "actions that day consistent with a meritorious service."
But the remaining question is whether he is suffering from significant financial hardship.
A financial report dated Nov. 2, 2016, indicates the former sailor has $230,120 in total assets, and $159,978 in total liabilities. He lists a total monthly income of $4,580 and monthly expenditures of $1,791, although "it appears incomplete as no expenses for food, gas, clothing, transportation, etc. were included."
An Oct. 13, 2016, letter from the Bank of Montreal indicates the former sailor's account was past due.
"A statement from Capital One for the period of 15 September – 14 October 2016 indicates the appellant's account was temporarily suspended as he was overdue by three payments. A Halifax Regional Municipality property tax bill indicates $1190.52 owing with a due date of 31 October 2016."
Even with a mortgage payment included, the former sailor's financial report demonstrates a monthly surplus, the recent appeal decision says.
"This is inconsistent with the evidence of the appellant's wife who is indicating financial hardship, and other evidence of late or missed payments," it says.
"The panel also notes the absence of any expenses regarding the appellant's medical or self-care needs, in particular, as they relate to the appellant's PTSD condition."
While it acknowledges concerns expressed over the former sailor's financial need, "in the circumstances, the panel is left to speculate on the extent and nature of that need. Such speculation cannot form the basis of an entitlement to pension."
The panel said it is open to reconsidering the case if the former sailor can present new evidence demonstrating financial need.
"Although such evidence would not guarantee an award, it would allow a decision to occur on the merits of the appellant's claim."
https://www.localxpress.ca/local-news/former-sailor-with-ptsd-denied-compassionate-award-for-financial-hardship-636230

---
Permissions in this forum:
You
cannot
reply to topics in this forum